A four colour world
In a change from the advertised programme... do we really believe in a world of two-dimensional, cardboard cut-out super criminals?
In a change from the advertised programme...
In this 1963 episode of Superman Comic, entitled The Amazing Story of Superman-Red and Superman-Blue!, The Man of Steel (and his Kryptonite created twin) develop what they describe as an 'Anti-crime' ray, delivered from a ring of orbiting satellites. True to form, Supermans' plan succeeds, and soon bank-robbers are returning their loot, shoplifters give themselves up and escaped prisoners return to jail voluntarily. Phew! Thank goodness for Superman!
But it is the next panel (below) which is the most interesting. Here, two of the world's other famous 'criminals' of the period also repent. Former Soviet reformer Krushchev hilariously offers to "Dump all missiles into the sea..." (cue Russian gangster accent) and that other 'enemy of the free peoples' Castro throws open the prison doors. Phew! Even the oppressed people of the Axis of Evil can be thankful to Superman!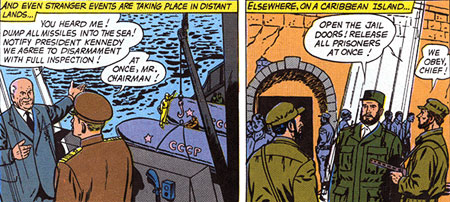 Of course Superman never managed to replace the Iron Curtain with a 'cloak of steel' and instead spent many adventures battling his arch rival Lex Luthor and thwarting his dastardly plans.
Four colours, two dimensions
Lex Luthor, a criminal mastermind hell-bent on world domination, was Superman's greatest foe. He hated Superman, the incarnation of goodness, and gleefully boasted in one episode,
"Only Superman stands between my great goal to rule this planet!
Soon I'll be King of the Earth!"
(cue maniacal laughter). Luthor's four-colour capers brought the constant threat of terror, death and destruction to the free people of Metropolis and only Superman could stop him.
Before you could say "Carpet bomb Kabul", Superman would swoop from the sky like a laser-guided missile to save the day. His X-ray vision seeking out the enemies of the western world hiding in their remote caves and bringing them to justice. His super breath could even whip up a desert storm which would bring enduring freedom.
But comics are for kids!
But this is the real world, right? We don't believe in two-dimensional, cardboard cut-out criminals. We don't believe in a world where there is a constant threat from 'super-villains'. We don't accept their comic-book, them vs us view of the world... do we?
In 1963, kids absorbed anti-communism through the pages of Superman. Today, we should be better informed and not accept their story as narrated. It is ironic to think that Superman's alter-ego Clark Kent is a journalist. I wonder what breed of journalist he would really be, a finder and deliverer of the truth, or just a super-sized mouth-piece?
And in a month where Americans see the terror alert raised one notch in the run up to Presidential elections and Brits read about the arrest of yet another of Bin Laden's alleged 'right-hand' men in London (even our sober Today programme on BBC Radio 4 talks of living under the constant threat of a terror attack on London), it might also be interesting to know what comics kids read in Bagdad, Kabul or the West Bank and who their super-villains are.
Stuff to read
---
Replies