A List (taken) Apart
The new ALA 4.0 and an interview with designer Jason Santa Maria.
A major brand name redesigning and implementing their web site with web standards can still be big news. When that brand belongs to one of the most influential sites of modern web design, the news is bigger. When the redesign was accomplished by some of the leading talents in today's web industry, the news is biggest. What am I talking about? It's the new A List Apart 4.0.
You might expect one of two outcomes from putting Jeffrey Zeldman, Eric Meyer, Dan Benjamin and Jason Andrew Andrew Santa Maria into a blender. A bloody mess is possible (but not likely), a tasty cocktail more probable. Whatever preconceived notions we might have, there is a lot for these guys to live up to. With a site this popular and it's contributors this well known, a redesigned ALA would always attract discussion. Within hours of it's relaunch, the air was thick with both positive and negative ions at Style Gala and Jason Santa Maria.
Like Revenge Of The Sith or sequels to The Matrix before it, expectations of a new ALA run extremely high. It would be virtually impossible to please everyone and with every project there are many contributing factors, many choices or compromises to be made. It is impossible for us commenting from the outside on gallery sites such as StyleGala to be aware of the reasons for these decisions. So I was lucky enough to steal ALA designer Jason Santa Maria for a few minutes to explain a little about the design process.
An interview with Jason Santa Maria
I loved the ALA design when I first saw it a few months ago. One of the comments I made then was that the home page lacked a strong visual 'focus' point, a place to start reading. What are your thoughts on this?
It's roundabout, but I'll get to an answer. I know it's a bit different in the way it treats certain subtle things. For instance, I consciously avoided visited link states. I wanted to give the impression that this was more than a website. Almost like an illusion of something more. A List Apart shouldn't be like a blog. It's not something we want people to skim.

There is so much thought provoking material for our industry there that you would be losing out if you skimmed it. I have always thought of ALA as though it were a teacher or a repository of ideas. I tried to get that across with this design; I wanted it to feel like something you are going to sit down and spend time with. As though it were a book you've been waiting to pore over.

I didn't want to hit people over the head when they get there. Some sites you need to hook people in immediately and get them to do something. I want people so peruse the place, find somewhere to settle down and get comfy and start reading. So, there is no overt focus of the homepage. The logo is there, the latest articles are there. Nothing screams because it doesn't need to. If you are the type of person who leave because you didn't fill your brain in 3 seconds, you probably wouldn't have benefited much from the articles anyway.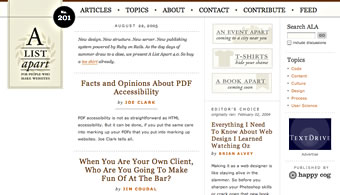 A List Apart 4.0
I know it's an age old chestnut, but we are seeing more creative, liquid layouts than we have for some time. What were the reasons for ALA adopting a fixed-pixel approach?
ALA 4.0 actually started out as fluid, but was changed to fixed after the first or second round of designs revisions I did.

I honestly don't think liquid layouts are the last step in evolution for web layouts. They are a fantastic option, and an even better solution as a stepping-stone to accommodate larger resolutions. The content columns still maintain comfortable line lengths for reading. ALA is supposed to be one of the grandaddy accessible sites, and it still is. But something many people are missing is that ALA is also one of the more trailblazing sites around. Remember To Hell With Bad Browsers?

ALA has always tried to be one of those sites at the front of the pack. We don't support 800 x 600 anymore, nor do we 640 x 480. Do you? People flipped when sites stopped supporting 640 x 480... now no one says a word. Things change. Trust me, you are going to see more sites stretching out their legs and putting their feet up.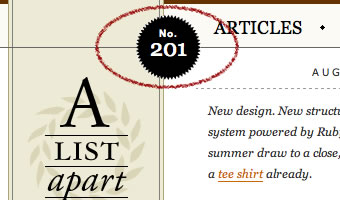 ALA issue numbers, one of my favourite parts of the new design.
Strong visual hooks like the new logo panel are easier to transfer from design comp to web. But you have a lot of very subtle effects such as the link:hover states which are hard to invisage without a web browser. Were these effects part of your original design ideas or did they become introduced during the CSS stage?
Many of them, like the subtle background hover for the logo were in my head from the design stage. Others like the issue stamp came about during CSS programming in drips and drabs, like Shit, we got that to work? Ok, let's push it here now.

In the case of the styling of links; I knew the colors would be changing each issue, but I wanted to have a consistent hover styles throughout. So, with that in mind I just sat down and started playing with live XHTML and CSS until I found what I wanted. I had an overall feel in my head for how I wanted the site to behave visually, but some stuff had to be left until the build.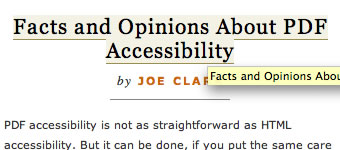 Hover craft
Last one. How precise were your design comps? Did you provide either an overall look-and-feel to ALA or did you make pixel perfect comps for each and every template?
Well, I actually did flesh out PSDs for the majority of pages. I am obsessive with my design files, making sure things are even and on their grid (if there is a grid) and ALA was no different. Because it was such a departure I had to really sell it to the gang with flat comps.

ALA is less like most blogs structurally than you think (especially once you start getting into the thick of it). There are many varieties of information that need to be presented, and I wanted to treat each one specially with the attention it needed. I didn't want to be hindered by the strict system of templates.

This is a dream site to work on, and we really were wide open on what we could do. There are a lot of nuances to the design, and we are all very proud of it.
Thanks Jason.
(Ed says: And what does Malarkey think of the new ALA?
Well for that you'll have to wait for another day. ;)
Thoughts anyone?
---
Replies