Black and white: Day four
I admire the process and teamwork which goes into creating comic books.
I love comic books (you might have guessed that already), not just because of the stories or the artwork (or because I long to wear a cape and jump off the wardrobe), but because I admire the 'process' and teamwork which goes into creating them.
Like the web, some comics are produced by one person, but many of the best are created by a team of people whose skills compliment eachother and go into making a better overall result.
Generally comic art creation involves,
A penciller who storyboards each page
An inker who applies black and white line-work
A colourist who adds the colour palette
A letterer who adds... well, lettering
Inking
One of the original reasons for this split between pencilling and inking was economics. As many regular comic books are published monthly and both pencilling and inking are time-consuming occupations, splitting them often ensured that publishers would be ready for their next issue on time.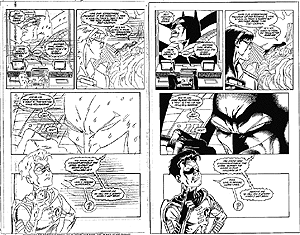 Detective comics: Before and after inking
While pencillers work in tones and shades of grey, an inker only works with pure black and white. An inker also needs to balance a faithfulness to the original pencils, his own inking style and the limitations of the comic printing process. Over the years, many inkers have developed a recognisable style of their own and some, like Curt Swan, have become as famous as the writers or pencillers.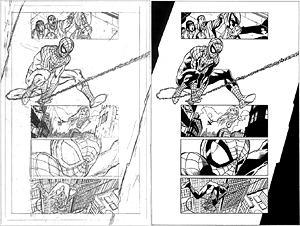 Spiderman: Before and after inking
(Ed: What has this got to do with web design? Get to the point.)
Underpants over my trousers
I think that comics have a great deal in common with the web, and comic artists have a great deal in common with web designers. Comic artists and story-tellers must,
Often work as part of a team for the best results
Work within the 'limitations' of the medium
Get the story told within a few short pages
Make their readers want to come back for more
I also think that web designers can learn a great deal from the process of creating comics, and I'm going to show a sneaky preview of a current project to illustrate my ideas.
Any thoughts?
---
Replies