Black and white: Day three
Paul Chadwick's Concrete
Most recently, Paul Chadwick has recieved much critical acclaim for his work on comic-book movie tie-ins such as Star Wars and the Matrix. Amazingly it has been almost seventeen years since I first started reading his work, and despite recent high profile titles, his own creation, Concrete remains one of my personal all-time favourite comics.
Concrete is the unconventional story of speech writer Ron Lithgow. On a camping trip in the mountains, Ron is abducted by aliens who transplant his brain into an artificial (concrete) body. Having escaped, Ron must come to terms with his new life as Concrete, a story which is touching and very 'human'. As well as putting his new body through its paces by climbing Everest and swimming the Atlantic, Ron also grapples with his lack of manhood and develops a passion for erotic art.
Concrete has always been graced by some beautiful colour covers, and later series (and reprints of earlier stories) are presented in colour. When I first started reading Concrete in early issues of Dark Horse Presents, the quality of Chadwick's draftmanship shone through in his black and white images. Somehow, the black and white illustrations still seem more 'real' than the coloured versions and colour seems almost an irrelevance.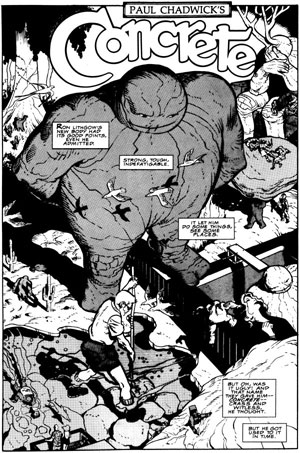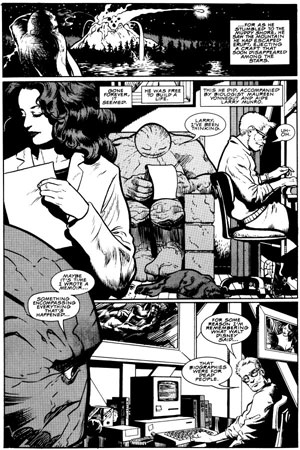 Unusually, on Concrete Chadwick writes, pencils and inks the stories, one of the reasons that there have been relatively few over the years.
The first new Concrete story for six years, Concrete: The Human Dilemma, should be in your local comic store by now. And there is a wonderful anthology of Concrete available from Amazon.
Does anyone share my passion for Concrete? What comics do you read?
---
Replies