Blimey, O'Riley (B)B King's final UK tour
The one where Malarkey and Alex laugh and cry with BB King.
I often feel blue wishing I was old enough to have seen the blues greats play. Muddy Waters, Sonny Boy Williamson II, T. Bone Walker and BB King are rarely far away from iTunes for more than a few days. Yesterday the last of those greats and King Of The Blues, Riley B (B) King brought some Mississippi sun to rainy Manchester (Arena) and Alex and I were there to soak it up.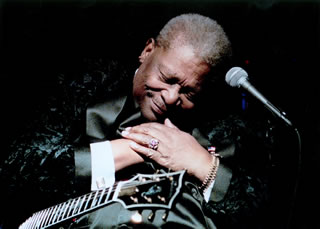 Sweet Sixteen
Alex is a rare soul. I'm not sure how many thirteen year olds have gigabytes of blues music filling their iPods, but Alex shares my love of the blues. On his iPod, John Lee Hooker rubs shoulders with Little Walter, Otis Rush and of course BB King. His last Christmas stocking included music by Robert Johnson and Son House and this year a surprise; A ticket to see the King Of The Blues play on his farewell UK tour. When I was thirteen I was fortunate to see BB play live in London. So you can imagine how pleased I was to share the experience of seeing him play again with Alex when he is thirteen.
Why I Sing The Blues
This year BB was eighty. After more than fifty years of touring he has decided that this trip to the UK will be his last. The years have finally caught up with him and he walked slowly across the stage to take the seat where he sat to play Lucille, the name he has given his guitars since 1949. With a cheeky smile he told the audience I'm diabetic, got bad knees, a bad back and my head ain't too good neither. Listening to him talk, sing and play, you never could tell.
I've always tried to do my best BB told us, but often I feel that my best wasn't as good as I'd have liked it to be. Tonight I think it's gonna be alright. He wasn't wrong.
There are literally hundreds of his songs I yearn to hear BB play live and so I knew that some of mine and Alex's favourites (including Hummingbird) might be missing from this final set. Even so there was no room for disappointment.
Rock Me Baby,
The Thrill Is Gone,
Why I sing The Blues,
Payin' The Cost To Be The Boss,
Guess Who, and
How Blue Can You Get
were all there and played with an amazing spirit and passion, even after all those years, by BB and his eight piece band which included his nephew Walter King on sax. Before BB appeared to fond applause, the band opened the set with two tunes and a series of solos which kept the focus of the rest of the show on BB himself. He talked between tunes, introduced his band (several times), as well as his son and grandson who are both part of his company. He likes to talk, quipping that the paper's next day might say BB King was good, but he talked, a lot. I could listen to him talk all night.
The Thrill Is Gone
BB told the audience that this tour would be his last, but that if the fates allow, that he would like to do one more. I hope that if he does, Alex and I will be there to see him play Lucille. If this time was the last, the very last, I know one young man who will treasure the memory of last night for a very long time. 'The Thrill Is Gone'?
---
Replies