Cartoon classics: Mr. Benn
Somehow, in Malarkey world conversations often take an unexpected turn down memory lane. Yesterday I was trying to explain to (a slightly bewildered) person about one of my favourite animated cartoon classics, Mr. Benn. So now you know that I'm sat in a chair with a rug over my knees, dribbling and feeling really old.
As if by magic
The imaginatively titled Mr. Benn followed the adventures of, err, Mr. Benn, a bowler hat wearing businessman (whose occupation still remains a mystery) who over just thirteen short episodes from 1971 had amazing adventures.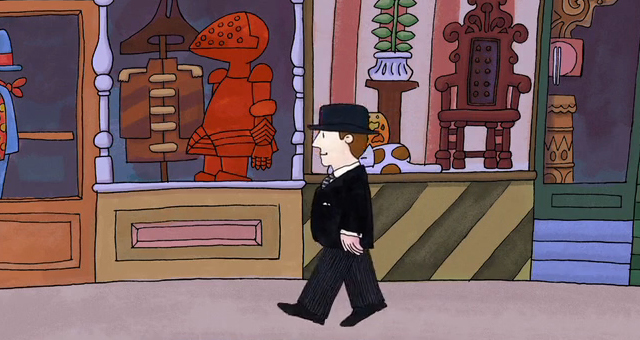 Mr. Benn lived at number 52 Festive Road, London (Ed says: Don't bother trying Google Maps, Festive Road ain't in London.) and made regular trips to his local costume shop. Once in the shop, as if by magic the shopkeeper would appear and suggest a costume for Mr Benn to try on.

After changing Mr. Benn would walk out of the other door where he would find himself in a different world appropriate to his costume. There Mr. Benn would have an adventure and help solve a problem. Once his adventure was over, the shopkeeper would mysteriously re-appear and show him back to the changing room. Back at number 52 Festive Road, Mr Benn would invariably find that he had a souvenir of his adventure in his pocket.
The shopkeeper appeared
With a fond smile I can remember watching Mr. Benn. The work of his writer and illustrator David McKee was sublime in its charm and naivety and the minimal animation rarely consisted of more than a panning camera across McKee's wonderful drawings. His adventures all centred around helping the people he met after walking through the other door.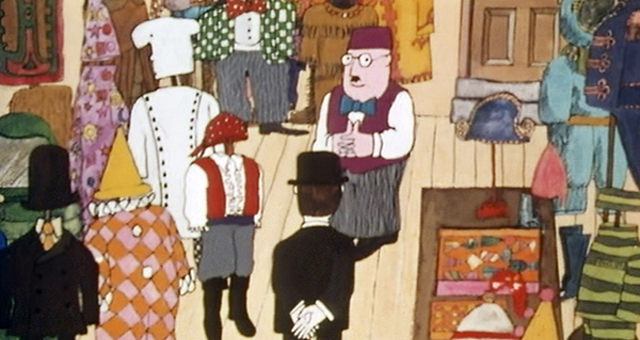 But even today there are some unanswered questions: Where did Mr. Benn keep all the stuff he nicked from his adventures? Why didn't he tell the shopkeeper to @%&@*% off! every time he interrupted an adventure. I suppose we'll never know, but Mr. Benn remains one of my classic cartoon memories.
Cartoon capers
All this thinking got me thirsty, and all the drinking that followed got me thinking about more cartoon classics that I could well enjoy seeing again: Hong Kong Phooey, Noah and Nelly (the one with two headed animals aboard the Sky Lark) among them.
Ah, happy days. Can I have my nap now please nurse?
---
Replies