Changingman layout
Changingman, a liquid three column CSS layout with a fixed positioned and width centre column, released under a Creative Commons Attribution 2.0 license.
Many thanks for all the kind birthday wishes over the weekend, it's not everyday that you reach [...] ;). By way of a thank-you to all the kind people that I have met and others who occassionally stumble drunk across my site, here is a layout experiment which I have been devising with a little help from my good friend Brothercake, I call it the Changingman layout.
With the launch of something quite interesting only three weeks away, I have been working hard on a new design for the Karova web site. (I hang my head in shame that that site has not been developed for almost two years.) The new design has been through various iterations over the months and there is one layout which, although abandoned (as it does not fit the new content model) which I think deserves some further effort.
Changingman
Early on in the design, the need arose for a liquid three column layout which featured two flexible outer columns and a fixed width centre column, not a layout commonly seen implemented with CSS. I also wanted the centre column to be fixed in the browser window and so not move with the scroll. Early experiments proved tricky to implement, even across modern browsers. Luckily, at the time I was working on a project with Brothercake, whose almost unlimited knowledge of browser behaviours and CSS filters came to the rescue.
So here is Changingman, a liquid three column CSS layout with a fixed centre column. (Caveat: Works in all modern browsers which we have tested, but not in version 5x Internet Explorer.)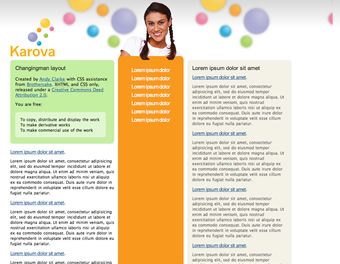 I'm releasing all my project XHTML and CSS files for Changingman under a Creative Commons Attribution 2.0 license for you to do with whatever you so choose.
Example (Firefox, Opera and Safari are coolest)
It would be cool to hear what you think.
---
Replies