Code Snippets two-point-oh!
The one where Malarkey admires Code Snippets; not another two-point-oh! photo/blog/rss combo platter.
I'm not a user of many web 2.0 applications, although the few that I have bonded with, including Basecamp, Blinksale, Flickr and Ma.gnolia, I use pretty extensively. Much of 'two-point-oh!' leaves me cold, but one solution has sparked my interest, and this time it's by a Brit, Peter Cooper.
Mashable
Pete Cashmore's Mashable blog has recently muscled its way into my feeds.
Mashable is a blog covering Web 2.0 startups, peer production, user-generated content, revenue sharing, social software and the web as a platform.
During a leisurely browse through Mashable's weblist coverage of two-point-oh! I spotted (among the multitudes of photo/video/audio sharing apps, RSS tools and social bookmakers) a little gem lettuce of an idea in the form of Brit developer Peter Cooper's Code Snippets.
Code Snippets
The idea behind Code Snippets is simple.
A tagging system for content, developed in Ruby on Rails. This main installation acts as a Web repository of programming code snippets. It gets approximately 6,000 page-views per day.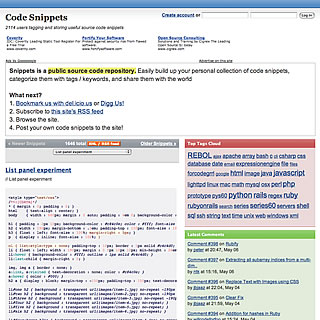 Code Snippets
Snippets' interface design and functionality does have room for improvement and I do have certain peeves, comments and suggestions:
Not being a snake charmer, I'm not that interested in pythons, so I would love the ability to customise the interface to show only the content areas that I am interested in.
I would like to see DOM driven expanding/collapsing widgets that would help to reduce scrolling on long pages and options for content ordering (author/comments/date etc.).
Unless I missed something, only a predefined set of tags can be added to a snippet and there is no search.
There seems to be little in the way of exporting facilities beyond an RSS feed of your own snippets.
Building on Snippets
I hope that Snippets' development team will continue to iterate its interface and functionality and a discrete Snippets (source code available on request) in the site's footer hints at the possibility of other developers building on Snippets' base.
What interested me most about Snippets was the possibility of building a library of best-practice code relating to web standards and particularly to accessibility. This could potentially be created organically or as part of an initiative by contributors to Accessify and its forum.
But for now, I'm enjoying the fact that a Brit has created a terrific tool that isn't yet another two-point-oh! photo/blog/rss combo platter and has done so seemingly without gazillions of VC dollars.
---
Replies