Designing for: Dig Business
I have recently had the pleasure of working with the fantastic chaps at New York based consultancy Dig Business. Here is a Yellow Cab ride through the design process.
It's always gratifying when someone calls or emails out-of-the-blue and says something like, Can you do... for us?. It's even nicer when that person is halfway across the world. Over recent weeks, I have had the pleasure of working with the fantastic chaps at New York based consultancy Dig Business. The result is their new site and company blog.
I thought that rather than go through all that CSS this, and XHTML that malarkey, it might be interesting to take a Yellow Cab ride through the various design stages, the detours into dead ends and (hopefully) ending up on Madison Avenue. So here (without stopping much for coffee and donuts along the way) is Dig Business.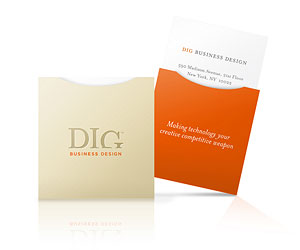 1. Dig's unusual business cards with a slide-out inner proved an irresistable early inspiration.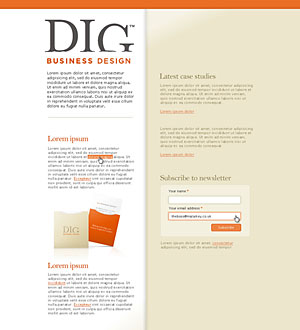 2. The very early draft layouts were unimaginative, but set the colour palette and tonal range firmly in mind.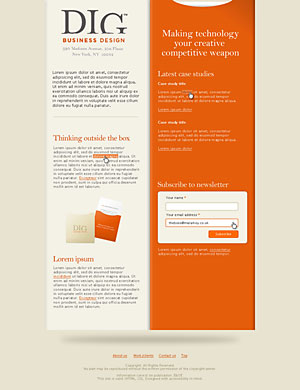 3. Design concepts deepened, introducing the card's stronger colours and shapes. One early idea (proofed in CSS but later discarded) was to position a 'virtual' business card behind the orange column and use em based top-margin to reveal more of the card as text sizes were increased.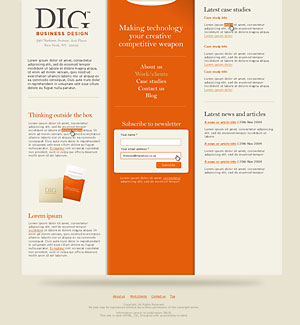 4. Ultimately a dead-end, the home page design developed into a three column design with a prominant center column. This later proved to be tricky to accomplish. Early CSS layout tests showed that either a fixed or fluid layout would be unworkable at less than 1024.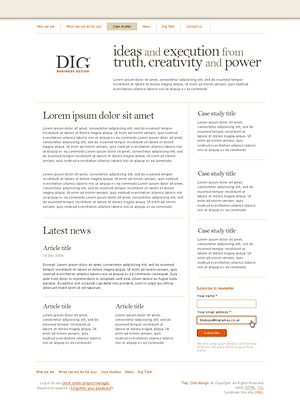 5. Dig decided to drop the reliance on the card designs and opt instead for a cleaner, more open design with more emphasis on content.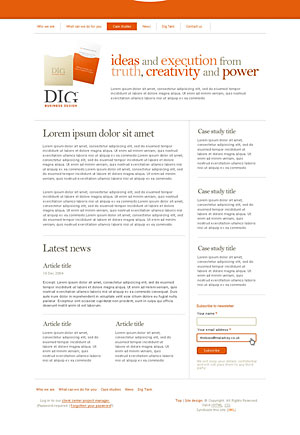 6. Elements from early designs began to creep back in. Some were abandoned, others found their way into the final design stages.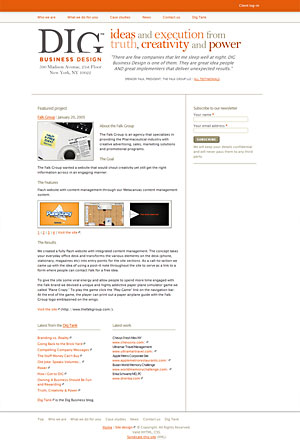 7. A final design comp which brings together various strands of the design process.
Digging deeper
The new Dig Business site and Dig Tank blog are both built using MovableType 3 as the engine, along with numerous MT plug-ins to make it go.
All that's left to say is thanks to Dig for an enjoyable ride. See you in person for coffee and donuts in March.
Let me know what you think?
---
Replies