Find your way back
Keeping a visible browsing history would seem an essential element of an engaging e-commerce store. I was surprised at how little this handy device is used.
Stuff and Nonsense is in the final stages of testing a new e-commerce store for a client (more about that when the site goes live on Wednesday). Key issues for the client were making the new store simple to navigate and highly usable, providing an engaging customer experience.
As part of the planning for the site, we looked at ways that we could increase a customer's opportunity to buy by providing a range of simple to use navigation devices. One of my favourites is what I call the 'history palette' (ed: Yes I know Adobe got there first ;) ). This palette tracks viewed items and displays them as links in a persistent panel.
The idea is not new of course, Amazon, the Daddy of usable stores, has had something similar for sometime. But I wondered how widely used this type of device is and at the start of this project I looked at forty e-commerce stores from around the world to see if anyone had equalled or bettered Amazon's example.
Shopping without shoe leather
The selection of the forty sites was no way scientific. I picked stores from high-street names, used Google to search and tried to avoid sites which were built on specific e-commerce software platforms. I expected to find plenty of Amazon clones, but after a day of shopping without shoe leather, I had found only four stores (including Amazon) which provided a form of history palette. To round the number up to five I added eBay which I knew tracked searches.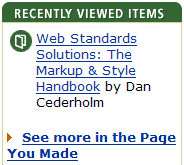 Let's start with the master
Amazon's approach takes two forms, a 'Recently Viewed Items' panel with links back to an item detail page and a cleverly branded 'Page You Made'. The latter is a combination of side panel and a highly useful page which lists viewed items along with recommendations for alternative items. This solution clearly works for Amazon, but strangely neither panels nor page contain any 'add to basket' buttons and a customer must revisit the item detail page to make a purchase.
Amazon is widely renowned as setting the standard that other online stores dream of emulating. The UK's own Blackwells boasts over 2.8 million books and it too sports a history palette. Blackwells is the only book store in the forty to do so, a strange finding considering that the list contains such notables as Barnes and Noble and bol.com. Blackwell's history palette is similar to Amazon's but adds the facility to clear the list. But once again, a customer must return to the item detail page to make a purchase and the panel is not linked to the shopping cart.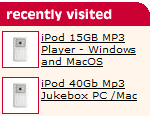 Computer giant Dabs follows suit with a basic palette which adds a tiny thumbnail image of the items previously viewed. Movies and music supplier Play takes a similar approach, this time offering a link to a separate page containing previously viewed items. Unlike Amazon, Play's listings contain 'Buy' buttons to save the customer the effort of revisiting the item detail page.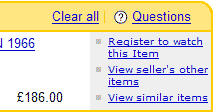 And onto eBay
Strangely, as eBay is not strictly an e-commerce store, it's history palette offers the most inspiration. While the format and functionality is familiar by now, tiny blue links to 'similar' items offer a glimpse of what a truly useful history palette could be like.
Learning from history
For the new site I alluded to earlier, I wanted to expand the possibilities of the history palette from this inspiration. Here is what I came up with.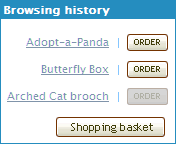 I decided to stick with the traditional links back to item detail pages and added an 'order' button to each item. This means that a customer can add an item to their basket from any page on the site. Once an item has been added to the basket, the button is 'greyed out' and disabled to prevent an item from being added again accidentally.
I have limited the number of items that can be displayed to ten (before a link to a separate page appears), although in theory it is possible for a customer to view many more items and then add chosen ones to the basket from one place, anywhere on the site.
The XHTML and CSS for my history palette is straight-forward and I intend to talk more in detail about this (and other features of the site) when the site is 'in the wild'.
What do you think?
Until then, does anyone have any more thoughts? Or have you seen any other interesting examples of a history palette?
---
Replies