Fixed or fluid, you decide
I struggle with letting go of fixed-width layouts. But recent discussions and a re-read of WAI guidelines has made me realise that no matter what Bobby says, I am not doing enough to make my designs accessible by sticking to fixed widths.
In a recent conversation with Swedish web accessibility advocate Tommy Olsson, Tommy impressed on me again the importance of fluid, rather than the more commonly used fixed-width design techniques that I and so many others designers favour. In a discussion over at Accessify Forum, I made the statement,
I think the issue should be more about accommodating browser resolutions than fluidity. In the real world, we have to design for style and this sometimes (not always) requires a fixed width.
Tommy (no doubt grinding his teeth ;)) replied that,
You're consciously sacrificing accessibility for aesthetics. For some devices it's a major hindrance. Unless you satisfy all Priority 2 checkpoints, you can't claim more than A.
Bobby's false assurances
The guidelines are very clear on the subject;
3.4 Use relative rather than absolute units in markup language attribute values and style sheet property values. For example, in CSS, use 'em' or percentage lengths rather than 'pt' or 'cm', which are absolute units.
Running pages like this this through the Bobby validator therefore gives us the false impression that the site achieves a AAA rating, because the fixed widths are stipulated in an external CSS file, which Bobby does not interrogate.
Struggling to let go
I struggle very hard with letting go of fixed-widths and I am also sometimes guilty of convincing myself that a fixed-width is 'OK' because it 'suits the content of the site' better than fluid. Tommy would no doubt argue with me that the content should be considered in the context of the 'viewer's' environment, and that imposing a width in a design will always disadvantage somebody.
I want to agree with this, but old habits die really hard. So I thought I'd look at two current design projects, experiment with fixed vs fluid and see what happened. I am quite honestly surprised at what I discovered.
Redweb Sentry
The first design is a simple 'teaser' page, a temporary stage while we develop a complete web site. The layout is simple and the content fairly minimal, not enough to give too much away, but (hopefully) enough to get Mr. Google interested.

(gif 75Kb)
My original design was set to 600px wide. I was surprised that even with minimal content, the layout suited a fluid layout rather well and would require only a little CSS and image trickery to work. Even at 1152px, with plenty of white space, text lines are not overly long.
Empire Hotel
The other design that I am working on is for a luxury hotel. This design is more complex in it's structure and I began by thinking that a fluid layout would never work as I wanted to keep a tight control over the positioning of page elements.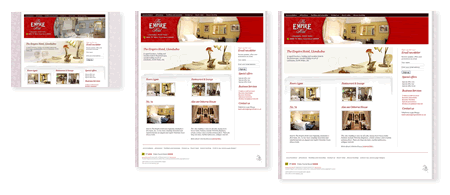 (gif 110Kb)
Again my original design was fixed, this time to 770px. Again the design adapts rather well to fluid layout, although gaps between images do increase rather more than I would like and I would probably stick with a fixed-width side bar. (Is this still in contradiction of the guidelines?).
What should I do?
Overall I am surprised that the voices in my head shouting "fixed, fixed, fixed" are probably wrong in these two cases.
What do you think? Should I stick with fixed or stay up all night converting them to fluid layouts?
---
Replies