Fun or naughtiness with the Apple Remote
The one where Malarkey plays with his Apple Remote thingmy.
Being the proud owner of a new PowerMac Book ProMac Book BookPro Mac with its dinky Apple Remote, I wondered what fun or naughtiness could be had with this (where the hell does the battery go) IR doofer.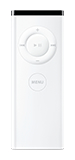 The remote ships with and controls just about every new Apple thingmy. The other day I realised that in addition to controlling Front Row applications, the remote also works in my favourite presentation tool, Apple's Keynote.
With IceWeb 2006 and other events coming up, this got me a little concerned about the havoc that devious audience members might potentially wreak if they too carried one of the little white wonders: changing my slides, switching my Mac into FrontRow midway through an important bit, showing the audience my huge collection of pirated porn Eric Meyer movies. So with a little help from the Apple web site I have (apparantly) successfully paired my remote with my Mac.
Invade your iMac's personal space by getting up close to it (about 3 or 4 inches away)
Point the remote at the Apple logo on the front of your Mac.
Press and hold the Menu and Next/Fast-forward buttons simultaneously on the remote for 5 seconds.

Your Apple Remote is now paired with your computer. You can tell the remote is paired because you will see a chain-link style lock.

Source: http://docs.info.apple.com/article.html?artnum=302545.
Now I'm living in hope that this will prevent any funny business, but I still wonder about the security of the remote, how the pairing actually works (is the pairing combination truly unique?) and whether there are any further precautions that I should be taking? Now where does that damn battery go?
---
Replies