Half dead with Hicks
After 24 hours travelling, I finally hit Austin.
Reading Andy Budd's SXSW Day 0 post this morning, I thought (cue Monty Python voice) You lucky, lucky bastard! ;)
While Andy and the other Brit Packers were sipping Frozen Margaritas and munching Tex Mex food, Hicks and I were still struggling with getting to Austin at all. I left my house at 6.00am (WalesTime) at headed for the 10.30am American Airlines flight from Manchester to Chicago. (Hicks was coming to Austin from Heathrow via Chicago and Dallas.) Flight 55 to Chicago was uneventful as expected and I arrived in Chicago an hour early at 12 noon (6.00pm WalesTime).
The connecting flight to Austin at 2.15pm but was delayed until 4.45pm because of snow, so I settled down with the iPod for forty winks only to find when I woke up that the flight had been cancelled. Bugger!. The next available free seat to Austin was at 9.15pm but finally left Chicago at 12 midnight (6.00am WalesTime), by which time I had been travelling for 24 hours. Still, the taxi ride to the hotel was fairly short and by 3.30am (9.30am , I was safely tucked up in bed in North Austin.
And Hicks?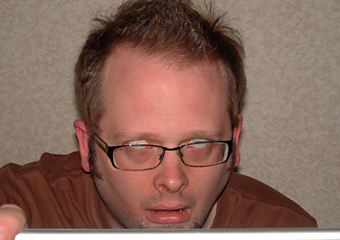 Well Jon arrived at 8.30 this morning (minus baggage) after being stuck in Dallas overnight. Currently, he's hanging around the hotel waiting for his luggage to be shipped from the airport.
We'll be meeting up with The Magnificent Eight later in the day, so if you see what appear to two extras from Shaun of the Dead shuffling vacantly around down-town Austin today, you'll know it's us.
---
Replies
#2 On March 11, 2005 08:36 PM gb said:

Oh, I do not envy you the flight. When I moved back to the States from Melbourne, I spent roughly a solid day either in the air or waiting in airports... you've done the same, and you're just headed to Texas from the U.K.! That's awful.

Hopefully Jon's gear arrives soon... we'd hate to see a recreation of "Meet The Parents," tex-mex style.

#3 On March 11, 2005 09:04 PM Andrea said:

Not quite 24 hours but...

I'm sitting in the San Francisco Airport on my way to SXSW. I was supposed to be there in 3 hours, but my 6am flight (which got me up at 4am) was cancelled due to fog. I ended up having to drive 3 hours over the mountains before dawn to another airport if I wanted to get out today.

So now I still have SF to Denver and Denver to Austin to go. It will be 18.5 hours total if all goes well from here. The sad thing is that I'm only trying to get there from California...

'Zombie' is the word of the day for me.