Living without TextPad
Thinking about swapping my design machine for a new Apple PowerBook, I realised that I would have to say goodbye to my favourite text editor, TextPad. So, to help with my decision, I thought I'd list all the things that I like best about this unassuming little application.
I have been pondering whether or not to replace my personal design machine with a shiny new Apple PowerBook. A new Mac will certainly give me the power and flexibility that I need and looks sooooo sexy too! But moving from a PC to a Mac would mean that I would lose my favourite XHTML and CSS editor, TextPad.
The TextPad web site really undersells it's application. In countless demonstrations, my firing up TextPad to edit a CSS or XSLT results in a web designer gasping, followed by "What is that?" or "That is so cool!" So to help with my decision, I thought I'd share why I think that TextPad is the coolest editor for PC based web-standards and CSS designers.
Scratching the surface
On a first glance, there doesn't seem to be much to write home about TextPad's interface. It's fast to open, has colour coding, a nifty Document Selector and Tabs, but so do many other applications. But the more I use TextPad, the more I find.
Clip library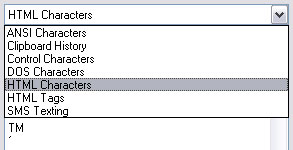 TextPad's clip library palette is the feature that I use the most. A library of HTML characters, tags and other entities are built in, but I find the Clipboard History the most useful. Simply put, it stores multiple clipboard entries and a simple double click in the palette, pastes the stored snippet anywhere in the document.
Join lines
Need to remove white space from a menu list to avoid the white space bug in certain versions of Internet Explorer? Just highlight the complete list, hit Ctrl+J and goodbye white space.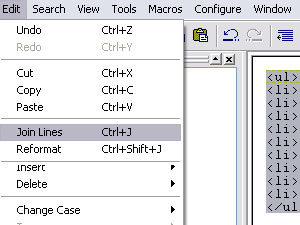 Aligning or indenting code
Some people prefer to indent their code to show a hierarchy, but personally I prefer to align all my code to the left as I find it makes it easier for me to follow. TextPad makes is simple to align code.

But I have recently started to use indentations in my CSS files to 'nest' styles that are children of particular parent styles. For example lists that are contained in a navigation div. I start by aligning all code to the left and then let TextPad handle all the indentations.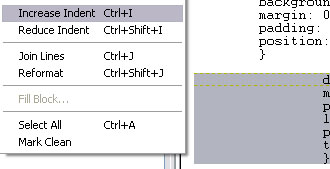 Compare files
Need to compare two files so see the differences between them (or what has changed, breaking your layout? TextPad not only opens the two files side-by-side, but highlights only the changes in a separate file which makes de-bugging much more productive.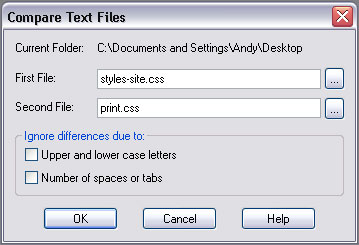 And there's more...
Add to these, Macros, Search and Replace and a totally configurable document window, and I don't know how I'm going to live without TextPad if I switch to a Mac. Maybe it will be worth installing Virtual PC just for TextPad?
I hope you found this useful
I'm not affiliated to TexPad in any way, it's just a tool that I use every day and find incredibly useful. TextPad is available for download at http://www.textpad.com/download/index.html. Additional Syntax Definitions, Utilities and other add-ons are also available. Have you tried TextPad and what do you think? And if I do switch to a Mac, what editor is going to be as cool as TextPad?
---
Replies