Paul Weller: As Is Now
Badass riffs and rock 'n' roll
Released today, Paul Weller's new album As Is Now isn't the return to form which I expected. It's better. A tour-de-force! Weller at his most spectacular for almost ten years.
A new Paul Weller album is always an event for fans of the Modfather, but his covers album of last year made many wonder if he had gone off the boil after solidly delivering for so many years. As Weller himself explains on the bonus DVD film, he just wanted a break from writing. A break which lasted over a year and a half.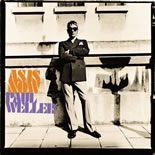 Now he's back together with old friends, drummer Steve White and Ocean Colour Scene's Steve Craddock and the result is perhaps his best album since Stanley Road.
As Is Now is a mixture of styles. Balls-out rock 'n' roll, the likes of which we haven't seen from Weller since The Jam. Mellow, but up-tempo ballads of which Fly Little Bird is a stand-out track and others which are playful and experimental. The last single, From The Floorboards Up, remains for me the pivotal track. 2 minutes 27 seconds of badass riffs and rock 'n' roll. But the latest single, Come On/Let's Go is not far behind.
Sing you little fuckers, sing like you got no choice.
Oh yes, and Bring Back The Funk Parts 1 &amp 2 just does that too. Not the pick of the bunch or to top the best of the Style Council, but fun all the same.
Paul Weller seems to fall into the love him or hate him category of artists, often dividing opinion. But from The Jam to the Style Council, from his work with Oasis and Ocean Colour Scene to his vast catalogue of solo material, you must be tone deaf if there isn't something for you to like. And if you need a catch up or have never heard the Modfather before, As Is Now is the perfect starting point. Fantastic!
---
Replies