Three designs
I thought that it might be fun to talk about design for a while rather than standards, and release a few work-in-progress designs.
I thought that it might be fun to talk a bit more about design for a while rather than standards, and release a few work-in-progress designs for sites that will be launched in the next few weeks.
All three projects were blank canvases with no existing design or branding guidelines to follow, so it really was open-house. They are also at different stages of development.
Each of these have been piloted as Fireworks comps and as flat XHTML/CSS layouts before showing to the various clients for approval. We often release designs to clients as graphical comps, but also often make sample web pages as clients sometimes respond differently to designs when viewed as proper pages. I find that because we now separate design and layout CSS into separate files, that it is often a relatively speedy process to turn comps into CSS layouts.
(Ed: Enough about CSS, this is supposed to be about design!)
Osborne House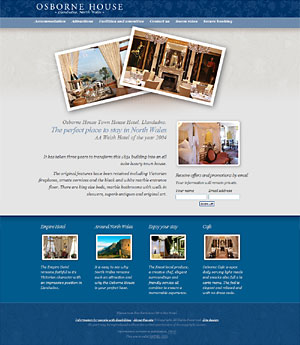 Osborne House is the sister hotel to the Empire Hotel, a long standing Stuff and Nonsense client. Here our aim was to strike a more sophisticated tone while keeping a common theme running between the two sites. Although the main content area is fixed and centered, the layout fakes fluidity by wrapping the three content rows into their own outers/wrappers which stretch to the edges of the view-port. A little background image trickery adds to the effect that the layout fills the screen.
As the hotel is in itself a visual treat (recently awarded best hotel in Wales), and my desk was scattered with photographs of the rooms, we decided to play on the photography theme. But we also thought it might be fun to break up the flat look by adding a highlight which escapes from the photographs.
Rhyl Commercial Property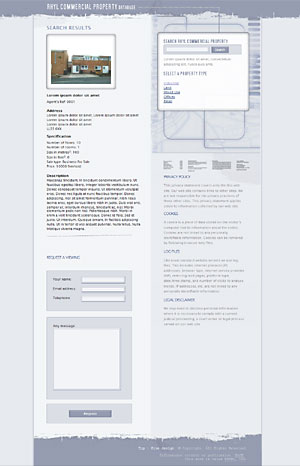 Rhyl is currently attracting a number of European initiatives to help it recover some of its former glory after years of being a faded sea-side resort. One of these initiatives is a commercial property database to encourage businesses to move into the area.
For this project, we wanted to avoid the standard estate agency look, and opted instead for a design concept based on drawings and blue-prints. Geometry is really important for this design and we worked to make sure that everything lines up.
Yorkshire Science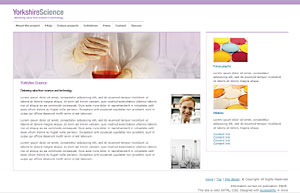 This project is interesting in that there is as yet no content available and we needed to allow space for an unknown quantity of content. The design here really needs to be fluid. (Ed: At last, a real fluid design!) and this will include some branding image trickery where the main image sits inside a fluid container which has a repeating background allowing the branding image to expand to any width. Stock library images still need to be decided on, so place-holders are used to create an overall impression at this layout stage.
Over to you
Funny thing is, is that during the designs we thought very little about standards or CSS until it was time to make the sample web pages. The same thing goes for accessibility too. Not that either will be after-thoughts, but we just don't set out to design accessible sites.
Hopefully you'll like them and I'd appreciate any thoughts.
---
Replies