Tim Burton's Corpse Bride online
Tim Burton's Corpse Bride web site reminds us that Flash can still provide an undeniably superior user experience.
As standards enthusiasts, I think that we are often guilty of a little navel gazing when it comes to web design. In many open discussions on WSA or Style Gala, the conversation can often turn to the importance of semantics and validation and sometimes (not always) the achievements of a particular design can be overlooked.
While many might agree that all Flash sites are seldom the most appropriate ways of delivering content and are rarely the technology of choice for the purpose, I believe that there are some situations where all Flash sites deliver exactly the right user experience. Movie tie-in sites are one such area, and no where is this better demonstrated than on the site created to support Tim Burton's Corpse Bride.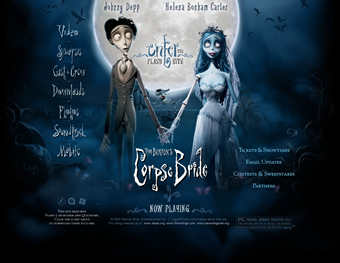 Tim Burton's Corpse Bride (HTML intro)
Markup from beyond the grave
Interestingly, while the main Warner Bros web site remains firmly stuck in the dark ages when it comes to it's code, the entry page for Tim Burton's Corpse Bride makes some attempt at least at a standards based implementation. While I can't compliment the developers on their code, I should compliment them on their attempt. I'm not going to forgive them for their overuse of Macromedia JavaScript, non-semantic XHTML or infuriating pop-up windows. I am going to forget it however as the reason for writing about this site is not standards, but Flash.
The life and soul
To designers and developers who create sites entirely in Flash, I am one of those infuriating people who clicks Back within a second of seeing a Flash Loading widget. Sites created entirely in Flash are rarely appropriate (unless of course the site is the online portfolio of a Flash developer) and for many reasons which are now well documented, they present visitors with a poorer experience rather than an enhanced one.
We often read the phrase an appropriate use of Flash referring to sites which subtley embed Flash content within a properly formed page and which use the technology to provide enhanced content or functionality in a way not possible with XHTML, CSS or JavaScript. But rarely do we think of sites created entirely in Flash as being appropriate.
I would argue that sites created to support movies and video games are perhaps one of the only instances where complete Flash sites provide a near perfect experience. One which gives visitors not only content related to the movie, but an overall experience as close to seeing the movie as is possible in the browser. The Corpse Bride Flash site is a perfect example.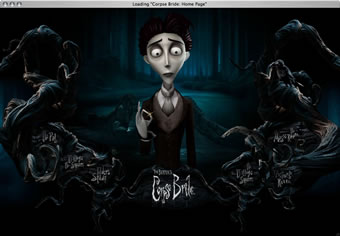 Tim Burton's Corpse Bride (Flash site)
Thoughts?
---
Replies