Time for a paint-job
In the run up to some big news tomorrow, I've stripped this site down to bare metal and given it a shiny new coat of paint.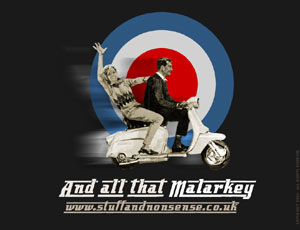 There's new wallpaper too...
It's been a very busy few months in Malarkey world. (I've got a big announcement to make tomorrow.)
Anyway, as our American cousins have been splashing blood around their sites in the run up to Halloween, I thought that I would splash a little colour around myself, and give the site a respray. There were parts of the old design that I was never entirely happy with, and I've been looking forward to fixing them.
Actually, this is a bit more than a respray. All of the MovableType templates have been kitted out with shiny new XHTML. I have reduced the number of <div>s and classes by over half and the mark-up is now more semantic. The images have been stripped down to bare metal and rebuilt too.
Along with the new paint-job, I've also added Live Preview to comments (down below) and I am allowing some limited XHTML in comments too. I'm not so sure how this will pan out, so let's see what happens over the next few weeks.
I was a bit worried at the start that adding colour might spoil the overall theme of the design. What do you think? I hope you like the new look, otherwise it's going to be out with the paint-stripper... :)
---
Replies