WaSPs!
What happens when the wasp woman calls?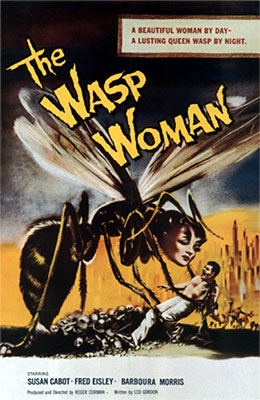 Oh my, I'm a sucker for bad movies! I'm sure we all have our favourites, but here is one of mine.
The Wasp Woman: 1959
Janice Starlin was the face that sold a million cosmetics, but eighteen years on, her business is declining as she grows older. Then she meets the eccentric Dr. Eric Zinthrop who has a miracle solution that will reverse the effects of her ageing - an extract from a queen wasp's jelly.
Dr. Zinthrop may be mad, but Starlin is desperate enough to become a human guinea pig for his experiments. Initially the queen wasp jelly seems to work, but Starlin is impatient, and injects herself with too much jelly and turns into a lusting queen wasp by night. You can even buy this classic on DVD at Amazon.
(Ed say: Hold it right there!
This is just a cheap attempt to get these nice people to buy a trashy DVD!)
Coming clean
OK, I'll come clean... I got a very nice email a couple of days ago and now I'm a WaSP!
;)
---
Replies