Win one of three Transcending CSS iPod Shuffles
The new iPod Shuffle is a thing of beauty
Despite owning several iPods including a 60Gb that contains my entire music collection, all six Star Wars movies and a multitude of other files, the new iPod Shuffle is such a thing of beauty that I just had to have one. Now I'm buying three more and giving them away.
With my book, Transcending CSS: The Fine Art Of Web Design in bookstores in the next few weeks, I thought that a competition would be a fine way of celebrating its publication.
Competition: Win a Transcending CSS iPod Shuffle
I am offering one Transcending CSS engraved iPod Shuffle to three people who opt to place one of the Transcending CSS cover buttons on their website.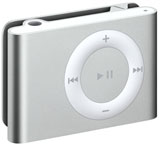 Transcending CSS engraved iPod Shuffle.
Grab one of the cover buttons from the site, or if you'd prefer, you can create your own graphic so long as it links to the www.transcendingcss.com website. Hotlinking to the cover button images is just fine (after-all you're doing me a favour) but standard text links won't count.
The winners will be picked at random from the referral logs in January 2007. Buttons must be on your site for the whole of December 2006 in order to be eligible.
---
Replies