Work smarter with Fireworks symbols
Working with wireframes can make planning and early layouts more efficient. But you can make the process even faster by creating your own Fireworks Symbols Library.
I've written in previous columns about how working with wire-frames and grey-box page layouts during a site's planning and early design stages can improve efficiency and enable client sign-off points. At Stuff and Nonsense we now work on wireframing for every project and I have found that clients appreciate the thoroughness of the approach.
For wireframes and page comps, my prefered weapon of choice is Fireworks. One of the reasons why Fireworks is so powerful a tool for initial layouts is its under-used Symbols Library which allows you to create, store and share with co-workers, an unlimited number of reusable design elements, greatly reducing repetition and saving massive amounts of time. Here's how.
Creating symbols
Start by making a blank Fireworks document and adding to it an element which is commonly used in many designs. Here, I'm going to use the examples of a search and select menu.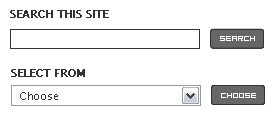 There is a PNG file available to save you making your own.
Select the search form and right (option) click and select Convert To Symbol (F8) which places the symbol into the library palette. Give the library item a meaningful name and select Graphic from the list of options. Repeat with the select menu. Make as many reusable symbols as you require (you can add to the library at any time) such as forms, lists, paragraphs and navigation.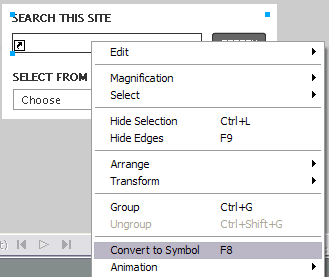 Exporting symbols
Fireworks allows you to export library items for use in other documents or to share with others. In the Assets/Library tab, click the context menu and select Export Symbols. Select one or more of the symbols you have made and export them to an external PNG file (eg: forms.png) on your local computer or file server. Then close the active document.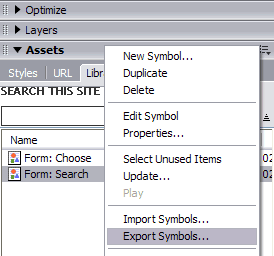 Importing and reusing symbols
When starting a new wireframe, first create a blank canvas. In the Assets/Library tab, click the context menu and select Import Symbols. Choose the PNG file you created earlier, select one or more of the symbols from the library and click Import.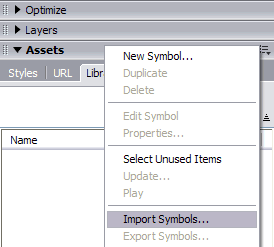 To add a symbol to your new wireframe, open the Assets/Library palette and drag a symbol into your canvas. Simple!
Share and share alike
I've built a symbols library which includes many commonly reusable elements. I've added my own forms library file (43Kb PNG) here for you to download. If you found this column useful, why not add a link to your own library items in the comments so that we can all share and share alike.
Let me know what you think?
---
Replies