But where are the cows?
I always find it hard to design our own company portfolio site, but here it is...
Here it is, the new Stuff and Nonsense portfolio site.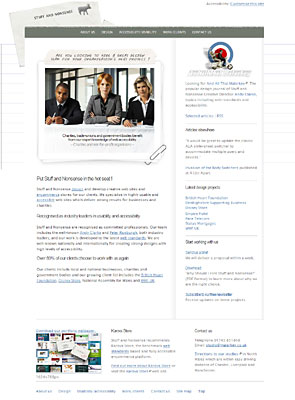 I always find it hard to design our own company portfolio site. So this time I took a different approach and decided to concentrate on the content first and let content dictate the design.
With a list of all the sections and pages which I wanted to include, I prioritised the most important areas and first made pencil sketches and then made simple grey box layouts in Fireworks. These grey box layouts were developed into mark-up guides showing in detail the structure of the templates and dictated the <div> and class names. One of the advantages of working this way was that the XHTML was coded only once during the build and at no time did I need to change the mark-up later for any presentational reasons.
With the mark-up set, I could work on the design and CSS, and decided to opt for a plain monochrome design which uses colour only in the screen-shots of client work. Hardly an original idea, but I hope that it works.
And the cows?
I decided to 'lose' the cows as they have been a part of many of the designs over the past few years. They will be making a return in the New Year, courtesy of a new logo by a famous celebrity designer... I'm in two minds about the cows going, on one hand it feels like 'growing up' and on the other I hope that we don't lose any of our 'personality'.
A few old favourites
There are a few techniques on the new site that might seem a tad familiar;
And of course, Invasion of the Body Switchers ;)
And some other stuff too
There is also some bespoke DOM scripting by the fabulous Brothercake, in particular the roll-over effects on the home page image. This combines an unordered list styled with Mr. Shea's CSS Sprites with dynamic <blockquote>s which remain fully accessible and can also be triggered by the keyboard as well as the mouse. (That script isn't a free template, so please don't re-use it without permission ;) )
Rough me up a bit
<gulp>Let me know what you think.</gulp>
---
Replies