Design mood-boards
For an up-and-coming site design project, I started to explore using mood-boards. Have you tried anything similar?
A while ago (when I couldn't sleep), I sat up late watching re-runs of home decorating shows on UK TVStyle, a channel wall-to-wall with house make-overs. From the completely dire House Invaders (a show which decorates a whole house in a day with left-over paint from the shed) to the classier Home Front, fronted by the (flamboyant) Lawrence Llewellyn Bowen.
Anyhoo, Home Front seemed not just to be yer usual paint-slapping show, but took you through the process of designing the room. Starting with the brief, visiting inspirational locations, design decisions and through to the 'reveal'.
Mood-boards
One of the things that interested me was when Mr. LLB asked his client to make a mood-board containing cuttings from magazines, photographs and fabric samples to give him an idea of what they liked and didn't. I've been meaning to try this idea with a web design client, but haven't quite got around to to it yet.
So for an up-and-coming site for (Ed: Say no more. Nudge, nudge... wink, wink), I made up my own mood board from 'cuttings' from various places. Here it is,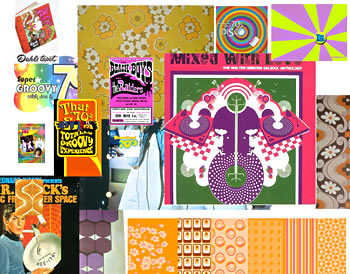 Does anyone else work this way?
Has anyone tried it with clients?
Have you tried anything similar?
I'd be interested to know.
---
Replies