Designing for: The Web Standards Project
The one where Malarkey talks about the decisions that were taken during the redesign of The Web Standards Project web site.
SXSWi, The Web Standards Project is changing, entering a new time in its history, opening the hive up to better include the communities and issues we've done our black and gold best to represent since 1998. And with the new phase comes a new face, and I could not be prouder that Jeffrey Zeldman has today cut the virtual ribbon on my new WaSP design.
I thought that it might be interesting to document the decisions that were taken during the redesign.
Designing for such a widely read and recognised site as WaSP was both a challenge and a great responsibility. I knew that the site would attract attention from people with a range of interests: some would be interested in our design decisions, others in our XHTML and CSS. I also knew that whatever decisions we made, that many aspects of the redesign would be inspected in the minutest detail.
Creative concepts
As a young person living in the UK during the early late '70s and early '80s, I was heavily influenced by the rawness of grass-roots political art of the labour movement. Street-sellers of Socialist Worker and Militant were common sights where I grew up and in the early '80s the National Union of Mineworkers strike pushed Coal Not Dole into the national consiousness. Many posters and flyers were printed locally, in garages and small print shops. The results were powerful and raw. In recent years, activists opposing the invasion and occupation of Iraq have continued to demonstrate with their symbolism that strong text and simple imagery can be evocative and powerful.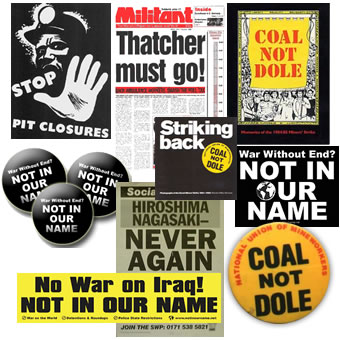 Redesign mood-board
As WasP has always been a grass-roots organisation and because the new site is more open to active participation and comments than ever before, for the redesign I aimed to echo these early influences to evoke the spirit of a movement.
Early wireframing
In the past the WaSP web site had been focussed on Buzz opinion and news postings. For the redesign I wanted to refocuss attention onto the work of the various task forces and I started by developing a series of detailed wireframes.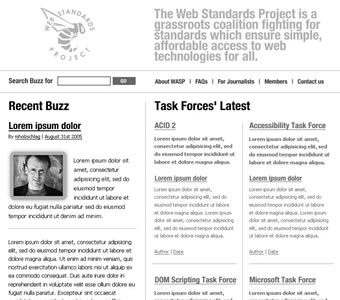 Early detailed wireframes
These wireframes developed through black-and-white block work layouts,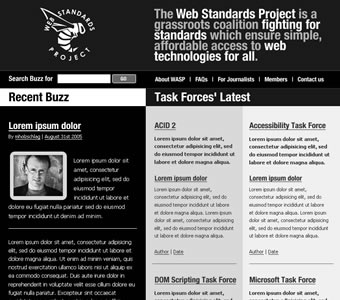 Black-and-white block work layouts
and onto final designs which introduced a limited colour palette (which was influenced by the grass-roots political art) of black, white and gold.

Development of the colour palette from the browns of the previous design to strong black, white and gold.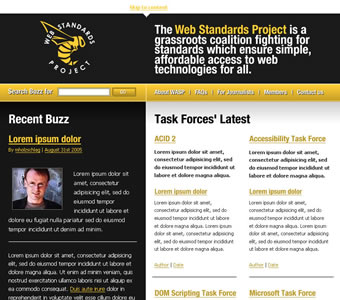 The final design comp which I aimed to reflect the grass-roots political art mood-board
The final Web Standards Project site redesign
And all that code malarkey
Various members of WaSP gave over their time and talents and worked tirelessly to take the XHTML and CSS templates that I provided to implement the design within a Wordpress powered CMS, add subtle JavaScript interactivity and port all the existing content into the new site.
So it's goodnight from him
Overall I am very pleased and proud of the WaSP redesign and of the hard work of those who gave up their valuable time and talents to make it a reality.
Replies
This article was originally published by Andy Clarke on his personal web site And All That Malarkey and is reproduced here for archive purposes. This article is published under a Creative Commons By Attribution License 2.0.