Hicks related charity auction
It's amazing what people buy and sell on eBay. Now a unique opportunity to aquire an authentic pair of Jon Hicks' socks. (Now sold)
Update: Auction closed, we have a winner!
It's amazing what people buy and sell on eBay. A quick Google reveals some crazy fools, with some of my favourites including someone selling (and bidding on) a Russian military patrol boat (No sale though, the highest bid of $85,100 did not meet minimum price :O .)
I also noticed when mooching around eBay that it is possible to donate a percentage (or all) of the proceeds of a sale to charity. Now not being stinky rich, I haven't much of value to sell. But I do have something (in fact a pair of somethings) which I am convinced are worth a small fortune. So, I thought I'd throw caution to the wind and sell my two most treasured possessions to raise money for Save The Children.
Update: Auction closed, we have a winner!
Many, many thanks to everyone who bid and congratulations and many more thanks to the wonderfully generous Glenda Sims for her winning bid. The socks will be on their way to Austin in Texas and I'm sure that Save The Children will be very pleased.
Authentic Jon Hicks' socks
A unique opportunity to aquire an authentic pair of Jon Hicks socks. These socks have been worn but will be delivered washed and pressed and accompanied by a Certificate of Authenticity. All money raised from the sale of these socks will be donated to Save The Children.

Certification statement

This pair of socks has been independantly certified as being owned and worn by Jon Hicks. Although the origins of these socks are unknown, they were transported to the United States of America by Hicks himself in early 2005 where they were appropriated by designer Andy Clarke. In the months following SXSW Interactive, their wherabouts became a mystery ,until their rediscovery in June 2005.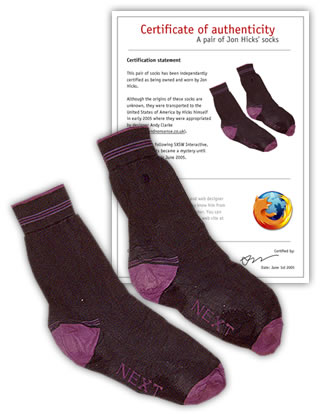 Go on geeks
Grab yourself a piece of historic Hicks apparel. In years to come, these are going to be very sought after and valuable indeed. I can even imagine them cropping up on Antiques Roadshow.
---
Replies