MeasureIT acquired by G.Oogle
Making and selling products is the way to go man.
In the news this week, three times winner of the Tour De France and occassional web designer Jeffrey Veen announced that MeasureMap has been acquired by Yahoo, AltaVista, Starbucks, . Well Jeffrey isn't the only one with news of a sale, and so not to be out-done.
Introducing MeasureIT
For the last several months, I have been busy working on a new, easy-to-use measuring tool and today I am pleased to publically announce MeasureIT.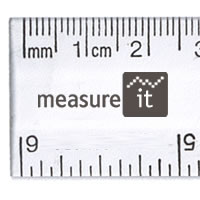 MeasureIT
People need to get stuff done, they need to measure stuff, and that is why I developed MeasureIT. MeasureIT measures stuff, it works transparently and has been made to help you easily see the numbers that matter to matter to you, in either centimetres or inches. Setup is a breeze - it only takes a minute (to get it out of the wrapper).

Since its inception I have seen tremendous potential for MeasureIT to influence how people learn how long something is. I have always expected MeasureIT to be big (about 6" actually), and as such, my desire was to give MeasureIT its start and then send it out into the world to measure things and evolve into a helpful, flexible and non-shattering measuring tool.
MeasureIT has been sold
MeasureIT has been in By Invitation Alpha for the last month and now I'm pleased to announce that MeasureIT has been sold.
So I said there was news, and here it is: I'm writing you to announce that MeasureIT has been acquired by Mr. G. Oogle of Hartlepool, effective today. For the near term, you will see no difference in how it operates. In the not so distant future, you can expect great things from this acquisition. I couldn't be happier to find such an ideal home for MeasureIT in Hartlepool, and am thrilled at the possibilities of lots more stuff to measure.

Thank you again for your input, your time, and your support of MeasureIT. Should you have any questions or comments about any of this, please do not hesitate to contact me.

Sincerely,

Malarkey
Making and selling products is the way to go man ;)
---
Replies