MIX06: Viva Las Vegas
The one where Malarkey wears his glittery trousers around MIX06 Las Vegas.
With blue suede shoes on his feet and Viva Las Vegas ringing in his ears, Malarkey can't help falling in love with Vegas as he reports from Microsoft's MIX06 conference.
seven
The big news on IE7 is that the standards support for the new browser is now complete and the MIX06 beta release features all of the CSS rendering support that will ship in the final release. Nothing more will be added and nothing will be taken away. seven is now available for download and there are more instructions on the IE blog.
How does it render my site? I'm all shook up to see that it's pretty damn near perfect. There are one or two interesting quirks (relating to the way that seven calculates <em>s in a different way to other browsers), but more on that when I can pin down Markus Mielke for a more detailed explanation on his latest flame.
The Future Of Internet Explorer
My main reason for coming to MIX06 was to sit on The Future Of IE panel alongside Dean Hachamovitch (the guy who runs the Internet Explorer team), Eric Meyer, Mike Rowan of Geotrust and seven's King Creole Chris Wilson.
Dean Hachamovitch outlined some of the decisions and balance points that had been taken into account during the development of seven. Other topics included what the panel would like to see from future releases of IE and how best Microsoft can help designers and developers deal with testing multiple versions of IE.
Build your web site your way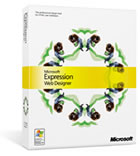 If visual web design and development tools are your thing, Lynda Weinman has presented Microsoft's latest, Microsoft Expression Web Designer at MIX06. A public release will be available in June 2006.
Microsoft Expression Web Designer gives you all the powerful tools you'll need to produce high-quality, standard-based Web sites the way you want them. Take advantage of the best of dynamic Web site design, enabling you to design, develop, and maintain exceptional standards-based Web sites.
Having seen only the live presentation and not the software itself, I'm still in the ghetto. However I can say that Expression Web Designer has some pretty damn impressive visual CSS features and management tools that made even Eric and I go Oooh! from the audience. The new application will initially run on Windows only and there was no confirmation that it would ever be ported to the Mac, so I'm still crying in the chapel.
A fool such as I might also wonder why Expression Web Designer uses a new rendering engine for its WYSIWYG design view that is not seven? It's now or never for Microsoft in the eyes of the standards community and so it was also very interesting to hear the words standards, web standards and accessibility so many times during a Microsoft product launch.
Bribing the WaSPs
And finally for all you suspicious minds, if you think that all this big hunk of love for Microsoft, seven and other products has somehow been paid for in the form of bribes, please rest assured that this is in no way the case. It's always on my mind and if you need further proof... ;)
---
Replies