Something about Fireworks (day 2)
Here is how I use another time-saving Fireworks tool to create colour swatches from any image which can be saved as CLUTs and shared across a team of designers.
Create a shared colour palette
Forgive me if you think that I'm a lot obsessed with colour and with Macromedia Fireworks at the moment. If you're bored with both these topics, play with this instead. ;).
Still here? Phew!
Another neat Fireworks tool is designed to create CLUTs (Colour Look-Up Tables) from any image, converting image colour components into a colour palette that can be loaded in both Fireworks and Photoshop. The best part about this method is that the look-up table can be shared across a group of designers who are all working on the same project. We use this method at Stuff and Nonsense all the time.
Here's how
1. Select Commands > Web > Create Shared Palette from the Fireworks menu.

2. In the dialog box, select the maximum number of colours for the palette (in my example only twenty-four) and choose a folder from which Fireworks will select images to sample.
3. Give the resulting look-up table a name and save it into your project folder.
Loading the look-up table
Fireworks

Select the 'Swatches' tab in the Color pallete and click on the drop-down arrow to reveal your palette options. Choose 'Add Swatches' and select the CLUT that you created earlier. All the colour cubes from your chosen image(s) will be loaded into the palette.
Photoshop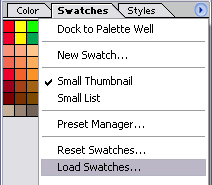 Select the 'Swatches' tab and click on the drop-down arrow to reveal your palette options. Choose 'Load Swatches' and select your CLUT.
Wrapping it up
Here is a side-by-side comparison between the CLUT method and my manual method for creating colour palettes based on art.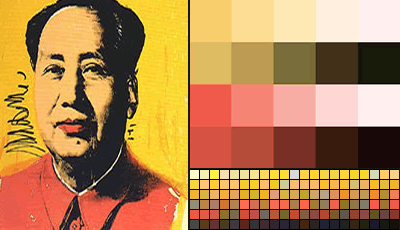 I find this method very useful for sampling colours from any image source including photographs, paintings, even CD cover-artwork, all of which I often take inspiration from. But the best part is that the CLUTs can be saved for easy reuse and shared among a team of designers to create a consistant feel to a site design. I hope that you find it useful too.
---
Replies