The best thing about standards
I'm not going to be blogging now for the next two weeks as I have a few projects which need my undivided attention. So here is a wee competition, just for fun... (Competition now closed)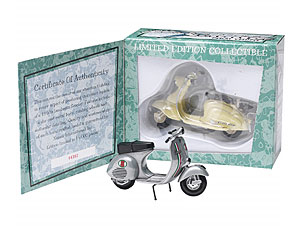 Competition time
I'm not going to be blogging now for the next two weeks as I have a few projects which need my undivided attention. But rather than let rumours of my untimely death circulate, I thought that I would let you know and leave you with a wee competition, just for fun.
I have cleared it with the Boss (wife) and I'm giving away one of these fantastic And All That Malarkey style model Lambretta scooters for what I think is the best answer to...
The best thing about web standards is ____________
Answers can be serious or funny, technical, a technique, or even a person. Infact anything goes, I will be announcing the winner in a couple of weeks. See you then.
The result
Great answers (mostly Pete Smith ;) ). And the winner is... (cue drum-roll)... Mike Abbott for this. It is true what he says... Send me your address Mike and get riding!
---
Replies