Today I met the President
The sound of choppers, secret service agents with bulges in their trousers. Yes, it's true, today I met the President.
Yes, it's true. Today I met the President. No, not George Dubya, but Rhodri Morgan, the President of Wales!
Well actually that's not quite true either. The Rt Hon Rhodri Morgan AM isn't actually a President, he is in-fact the First Minister and Leader of the Labour Party in the National Assembly for Wales. Basically this means he's the Prime Minister of Wales, except that Wales doesn't really have an independant government and is still run (mainly) from Westminster in London.
(Ed: So did he pop in to ask your advice on advanced economic forecasting then Miiister. Malarkey? (snigger))
Well no actually, but he did spend a little bit of time with us at Stuff and Nonsense today during a visit to North Wales to learn a little bit about what we do to keep the wolf from the door.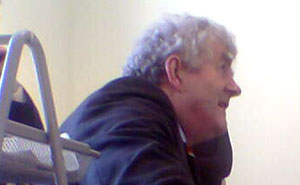 Rhodri Morgan visits Stuff and Nonsense, Karova
Wales is a tiny region and North Wales in particular often has more connection with the North West of England (Liverpool and Manchester etc.) than it does with South Wales or the capital in Cardiff. As there are no motorways, air-links or trains which run between north and south Wales (except via England), the establishment of an assembly in Wales (based in Cardiff) has made very little difference here in the north over rule from London (which is roughly the same distance away). In-fact many people in North Wales feel that the Assembly Government often thinks that Wales stops about 30 miles north of Cardiff. For this reason I'm personally pretty ambivalent about the whole Wales government thing.
I was expecting a motorcade and secret service agents with ear-pieces and suspicious looking bulges in their pockets. Disappointingly there was no sound of helicopter rotors, just a bloke in a car. Still, it was nice to meet the man in person and I hope that he went away with a good impression of us. Maybe one day he might even call us and ask us to redevelop his firm's web site. ;)
---
Replies