Of mice and men
No comment
Over recent days I have recieved a number of emails from people asking for my reaction to Disney Store UK's decision to move from valid and semantic XHTML and AA-AAA WAI compliance to an invalid HTML site which fails to meet Priority 1 accessibility guidelines.
Thank-you all for your emails but I will not be commenting publically. Instead I will hand it over to you for your reaction.
All I will say is that I wish Disney Store UK every success with their new site. I'll leave you with a screenshot taken today of Google search results for disney store uk.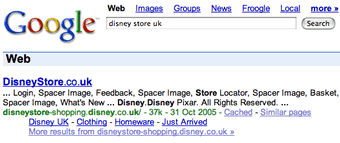 Google search results for disney store uk
I hear that Spacer Images are this year's hot buy for Christmas ;)
---
Replies