I wanted to make it easier for designers to create living style guides using just meaningful HTML markup and modern, well-structured CSS stylesheets and without any complex technical tools. I wanted to make it easier for developers to make component and pattern libraries that are beautiful as well as functional. I wanted to make it cost effective for agencies and studios to create style guides they can sell to clients. And most of all, I wanted to prove that with a little creative thinking, we can all make inspiring style guides.
That's why I created Inspired Guides, style guide, pattern and component library templates.
For the past few months, Inspired Guides have been a labour of love. I've spent countless hours working on their design and countless more researching how to balance the needs of creative and technical people, then poured over every line of code. Now they're ready for people to use.
Six original designs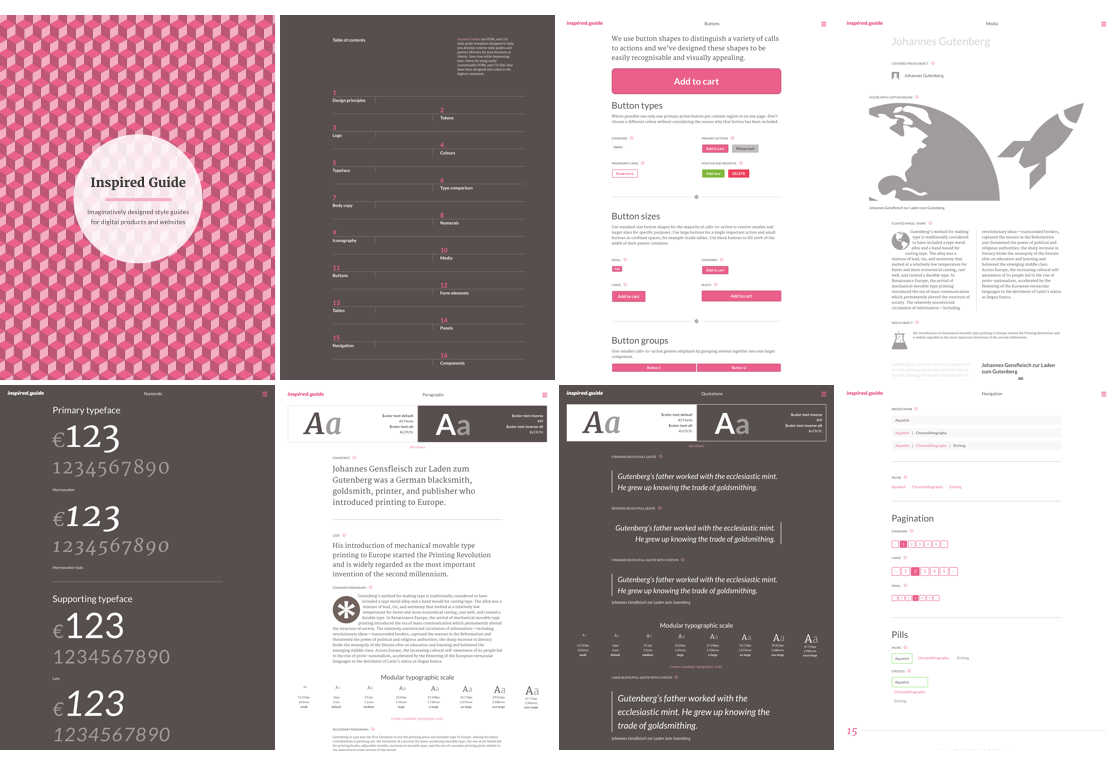 Merriweather
A flexible style guide design that's ideal for presenting a wide range of styles.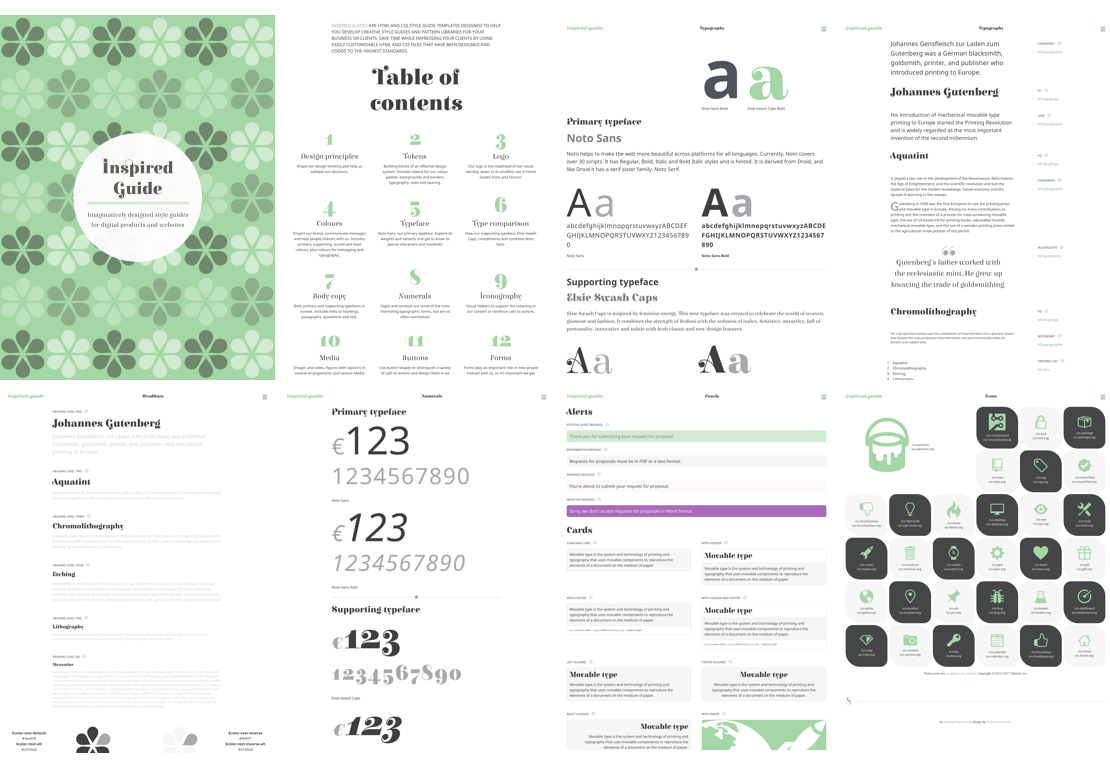 Noto
A playfully designed style guide that displays information about your colour and other styles in imaginative new ways.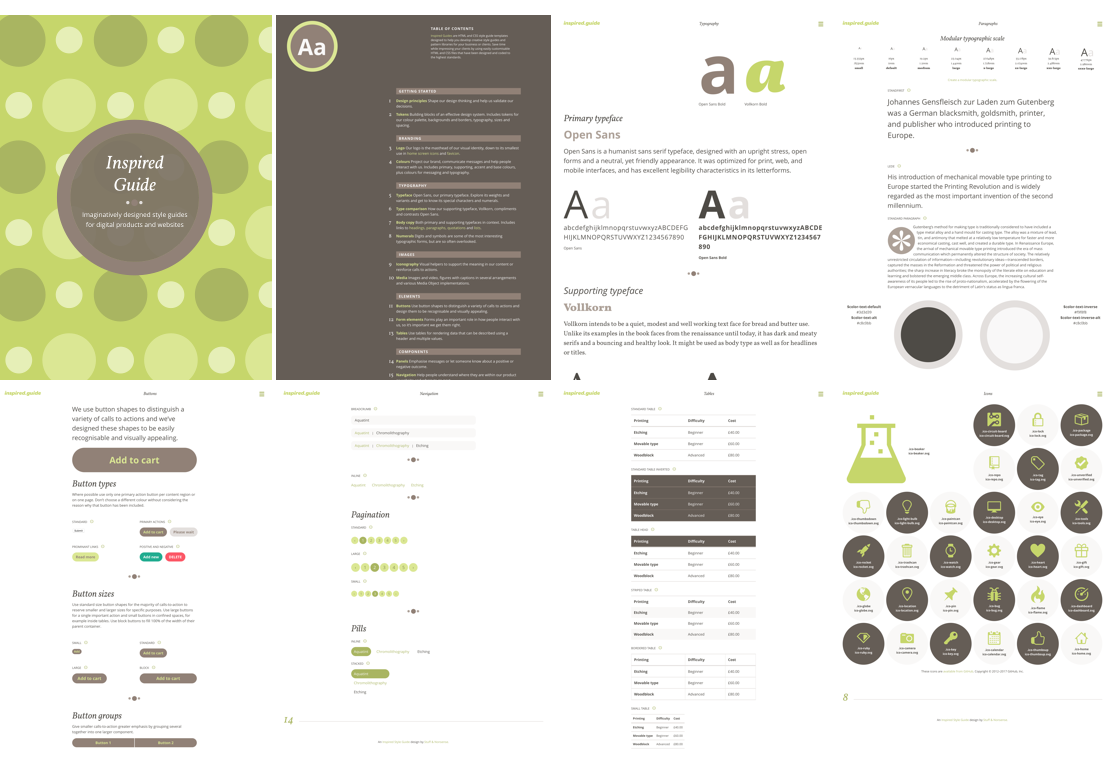 Open Sans
A contemporary style guide that's ideal for displaying elements in modern designs and is easily configurable with your own colours and fonts.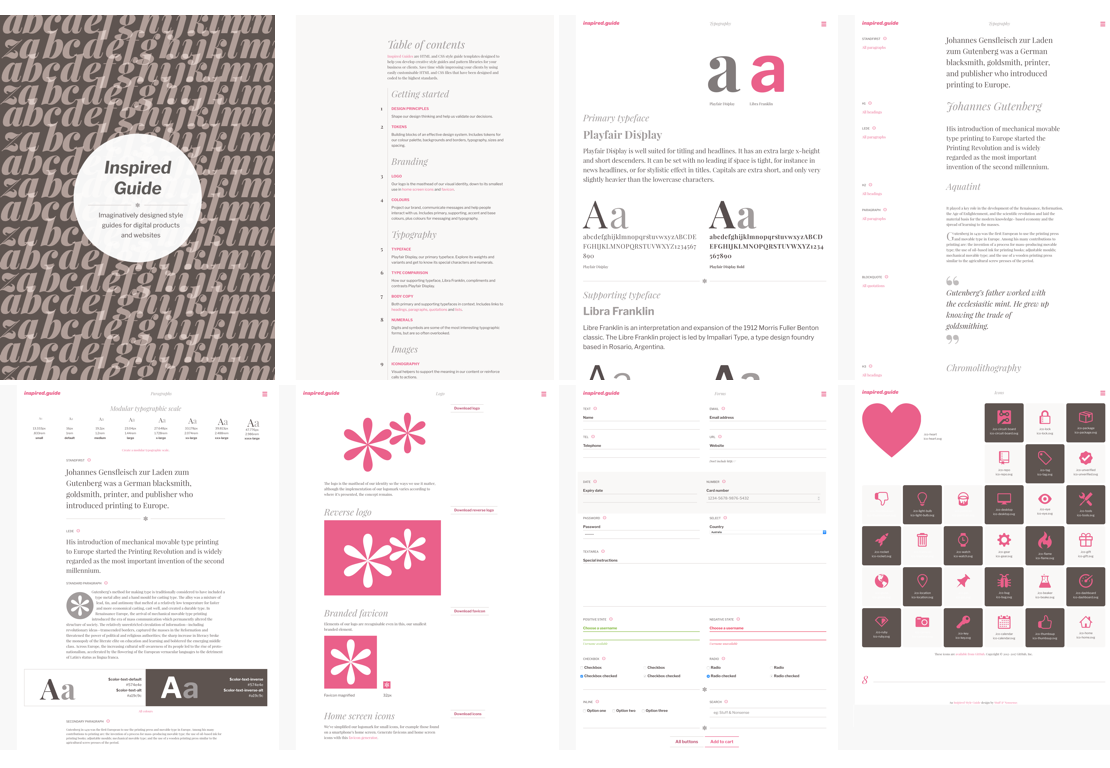 Playfair
An ideal style guide for content heavy designs due to its emphasis on typography.
Raleway
A practical style guide that requires only a basic knowledge of HTML and CSS and can be hosted anywhere.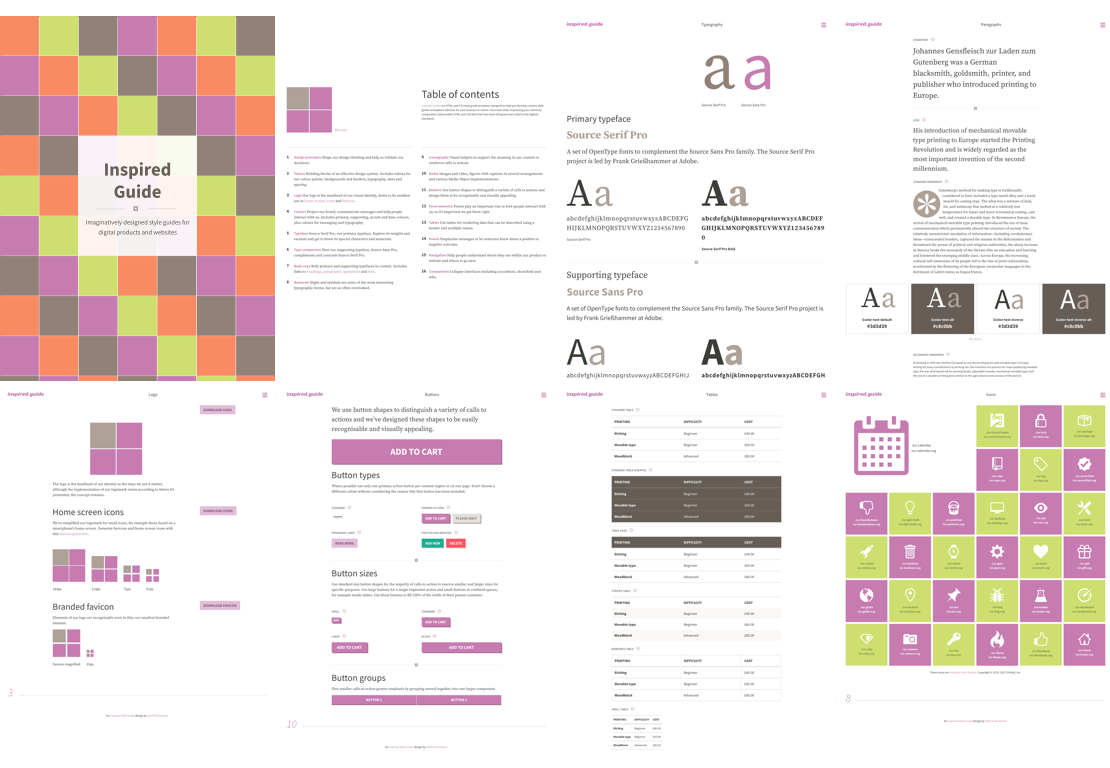 Source
A style guide with a bold design that's perfect for inspiring designers and informing developers.
Each design contains a pair of perfectly matched Google fonts and a balanced colour palette that you can easily customise to match your own design.
---
Twenty pages to get you started
Each design contains pages for common elements including:
buttons
colours
components
forms
icons
logos
media
navigation
panels
principles
tables
tokens
typography
typography-headings
typography-lists
typography-numerals
typography-paragraphs
typography-quotations
---
How Inspired Guides work
Here are just a few headline features:
Beautifully organised stylesheets and markup
Compatible with common frameworks including Bootstrap
Use with Google Fonts, Typekit, and self-hosted fonts
Custom Properties (variables) make changing styles simple
Mustache templates for adding your own pages
No dependencies, frameworks or toolsets to get started
Can be hosted anywhere
---
What Inspired Guide cost to buy
From September each Inspired Guide will cost £199+tax, but until then you can buy each design individually for just £169+tax. You can also buy two sets of three Inspired Guides for only £339.00+ tax, that's three designs for the price of two. All designs come with free updates and bug fixes forever.
---
Acknowledgements
My thanks go to the following people, without whose work, Inspired Guides wouldn't have been possible:
---
Inspired Guides are available to buy now from our new website.