Designing products and websites for businesses in Liverpool
When we were growing up in the 1970s and '80s, Liverpool was still suffering from decades of decline. Today, Liverpool is modern and vibrant and my favourite city in the UK. Liverpool has one of the UK's largest economies and has mostly shifted from manufacturing to banking, finance, and services. Since becoming the European Capital of Culture in 2008, it's also become a popular tourist destination and the sixth most visited city in the UK.
We're less than an hour from Liverpool
Since moving to North Wales, we've been regular visitors to Liverpool for business and pleasure. Liverpool has more galleries and museums than any UK city except London. We regularly shop in Liverpool and visit those galleries, because being less than an hour away by road, it's more convenient for us than Manchester.
Web design in Liverpool
We've designed websites for businesses and organisations in and around Liverpool for over ten years. Our first was the redesign of the University of Liverpool website, where we worked alongside their team of in-house developers to design and develop a system of page templates. The engineers developed our designs into the content management system (CMS) of a new website to attract students to Liverpool.
The Hillsborough disaster in 1989 was a defining moment for football in general and Liverpool Football Club in particular. 96 Liverpool fans tragically died in the disaster. In 2012, the Hillsborough Independent Panel published their report on the tragedy and the UK Home Office asked us to design a website for the report.
We worked with the UK Home Office, members of the panel, and family groups in Liverpool on the website design for almost two years. We wanted to design a website that is visually appealing and easy to read. We also had to consider the needs of the various groups of interested parties, including the Home Office itself, South Yorkshire Police and Ambulance Service and most notably members of the families of those killed or injured.
We delivered design files—a system of responsive HTML and CSS templates—to the Home Office team of developers. Designing for the Hillsborough Independent Panel was a design challenge unlike almost any other we've faced.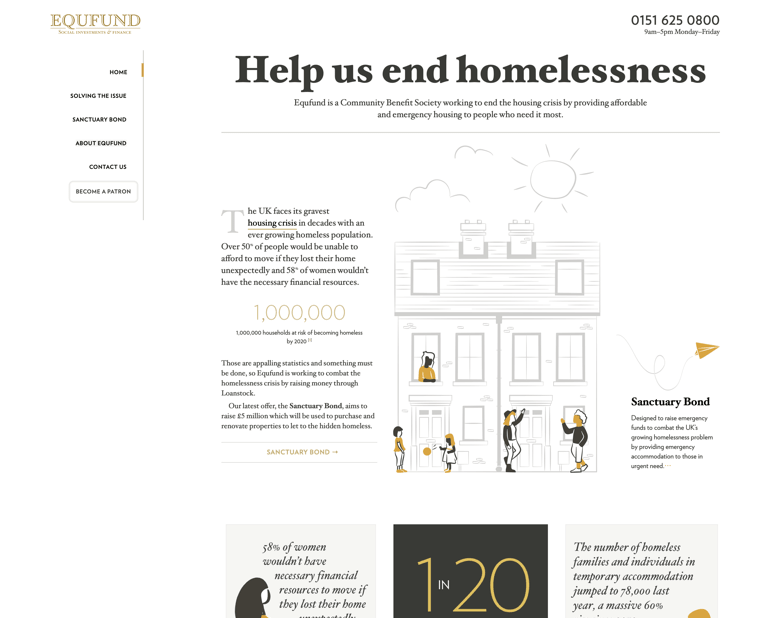 Designs which help Liverpool's homeless
Homelessness is a problem faced by many large cities, and Liverpool is no different. For over five years, we've designed marketing materials and websites for Equfund, a Community Benefit Society based near Liverpool. Their goal is to provide affordable housing in Liverpool for people who need it most.
Our first web design project for Equfund was a website for their Reap initiative. This website allows people to invest in rental properties in Liverpool ethically. As Reap was a new product, we designed its branding and visual identity. We helped devise its content and messaging, then designed and developed the website. Since then, we've updated the website regularly to include new content and functionality.
Using Liverpool-based trades, Equfund also redevelops properties across the city. We refreshed the organisation's branding and visual identity, worked on their content and designed a new website to attract investors.
We commissioned illustrator Vic Bell to produce a series of characterful illustrations that depict community life in Liverpool for this new website. Since then, we've designed their regular print marketing materials.
Our plans to help businesses in Liverpool
We're currently working three weeks every month with Nozomi Networks. The rest of our time, we're available to work with interesting people on designs for products and websites. We'd love some of those people to be from Liverpool. When we moved close to Liverpool, we had no idea how much of an affinity we'd develop with the city and its people. Website design projects for businesses and organisations serving Liverpool have been among our favourites, and we look forward to working in Liverpool again.