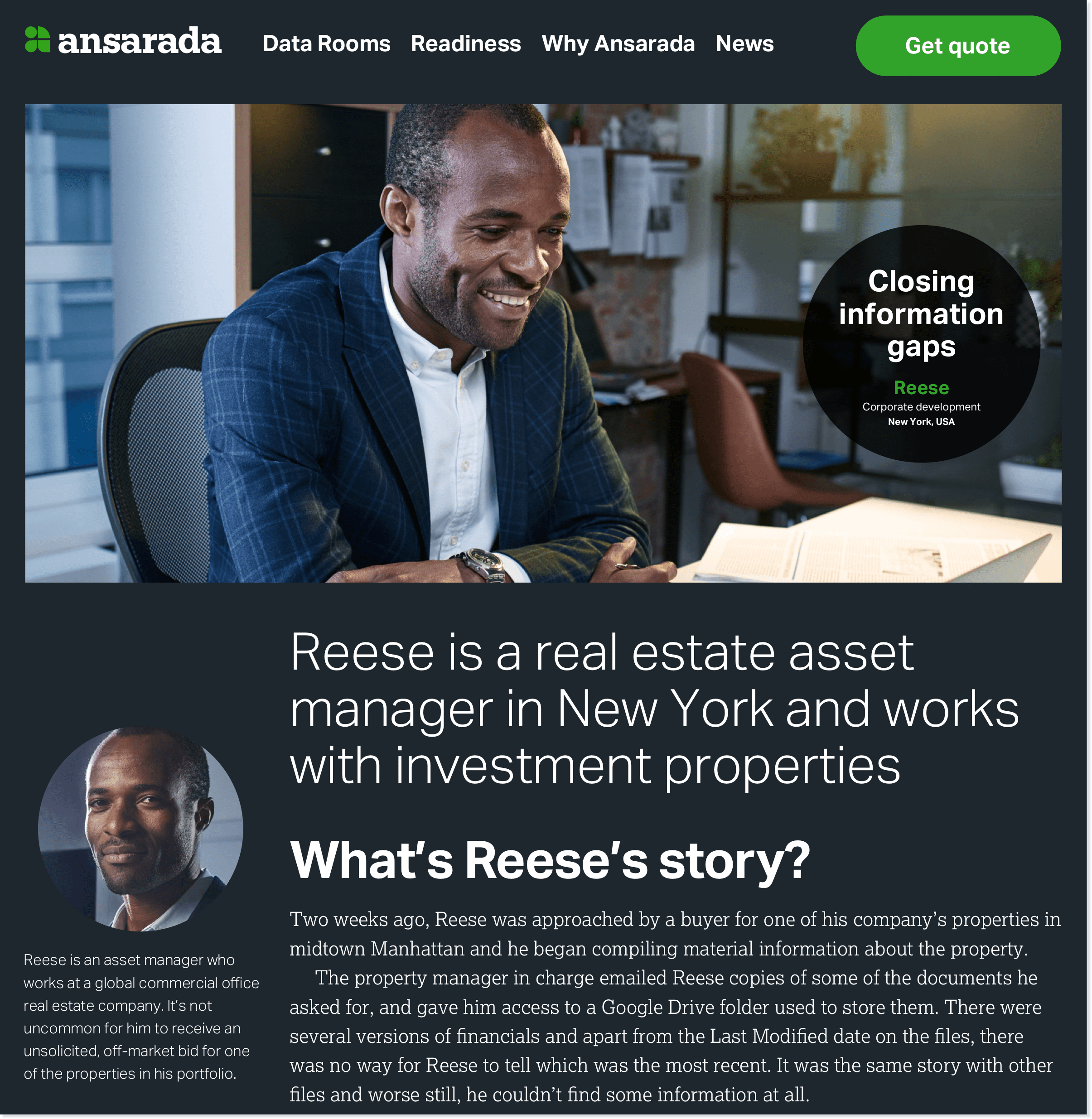 Bringing editorial to a product company
Building a SaaS platform and developing products which keep people engaged means more than simply making software usable. Ansarada was keen to explore how a content-based, editorial approach to telling stories about how people benefit from their products would improve engagement.
With echoes of quality print publications, updated for the modern world, my work for Ansarada makes them stand far apart from other tech companies.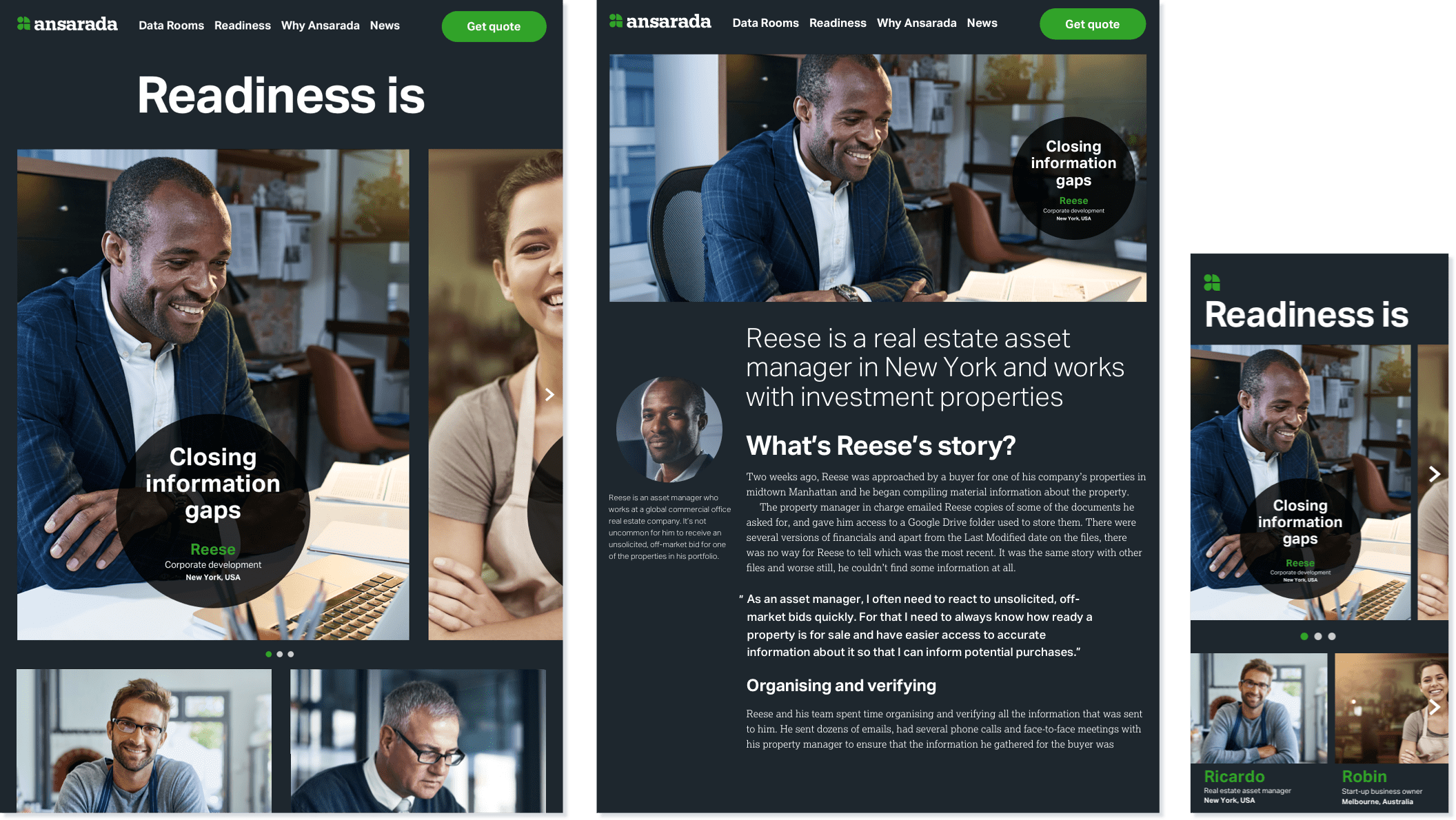 Brand work
After a decade of success in Australia, Ansarada was ready to expand internationally and with a new platform and products. To reflect the aspirations of a global tech company, I worked with San Francisco-based brand agency Godfrey Dadich to create a new visual identity for Ansarada.
A successful global brand needs to provide a consistent experience across everything customers see and touch. A new logo is just the start, so I worked across leadership, marketing, and product teams to develop a style guide which helps designers to work consistently across everything the company designs.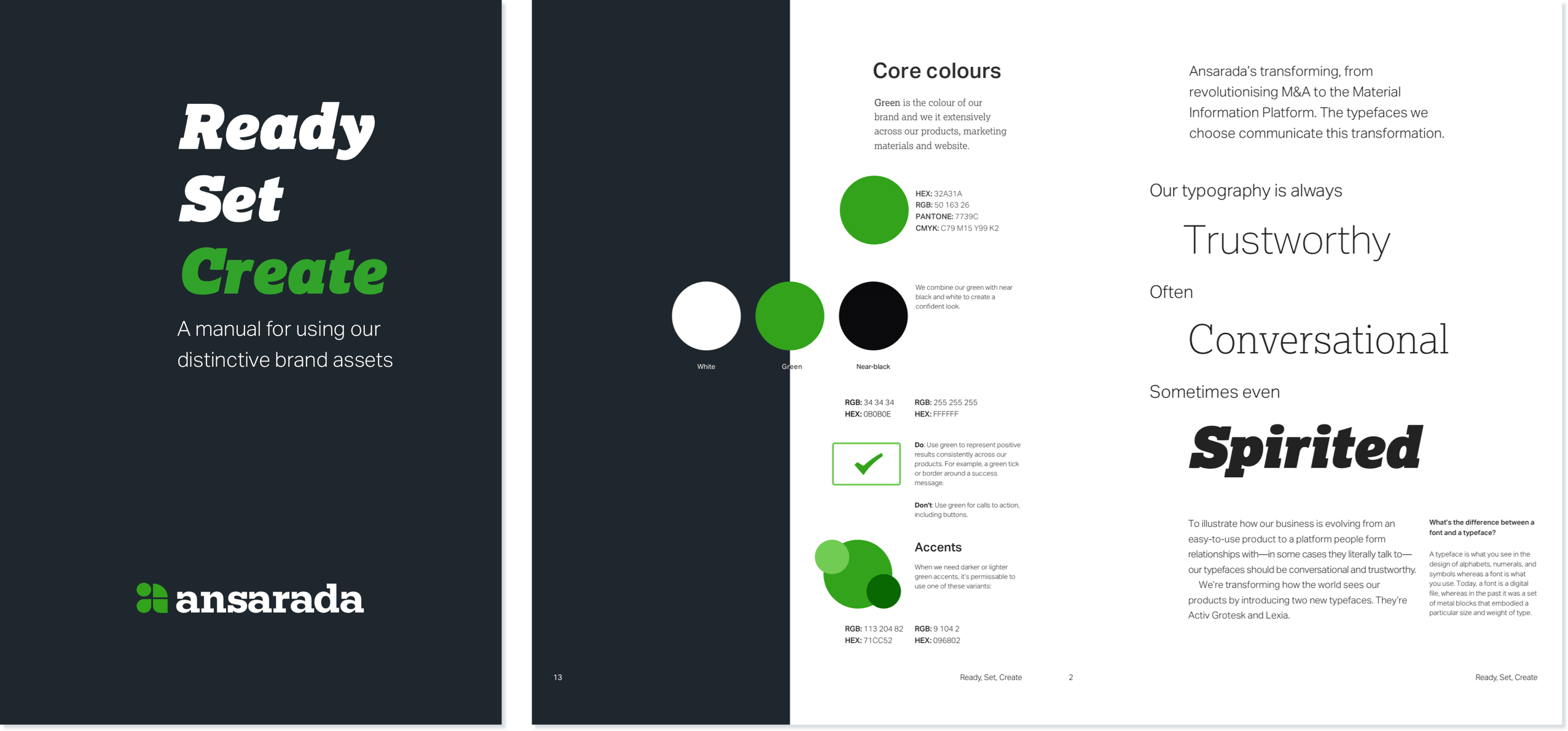 This new style guide explains in detail how the Ansarada visual identity should be used throughout their products, marketing, and sales materials.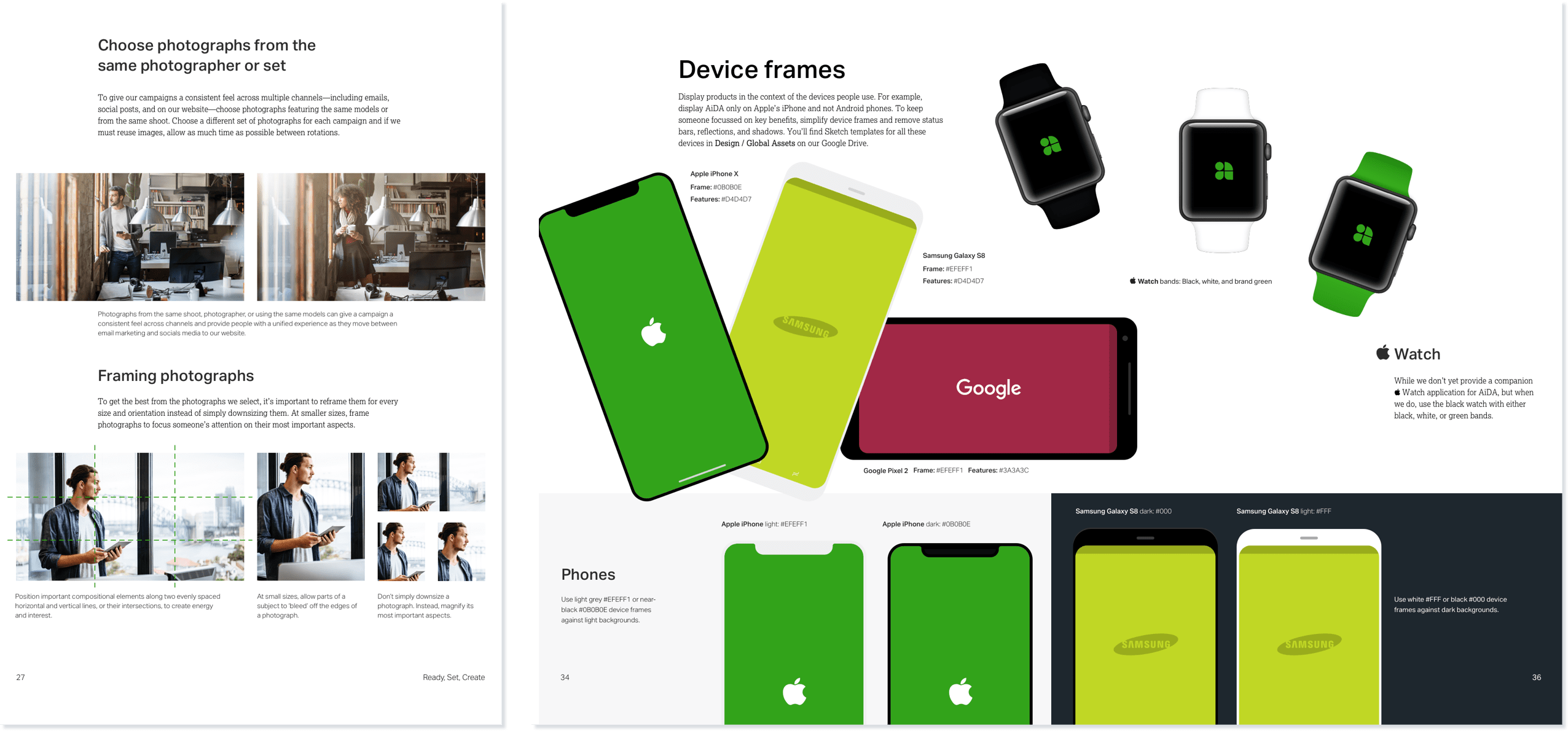 Design principles
For brand and company values to properly influence designs, they need to be backed by a clear set of design principles. We held a series of workshops involving both marketing and product teams to arrive at principles everyone agreed on.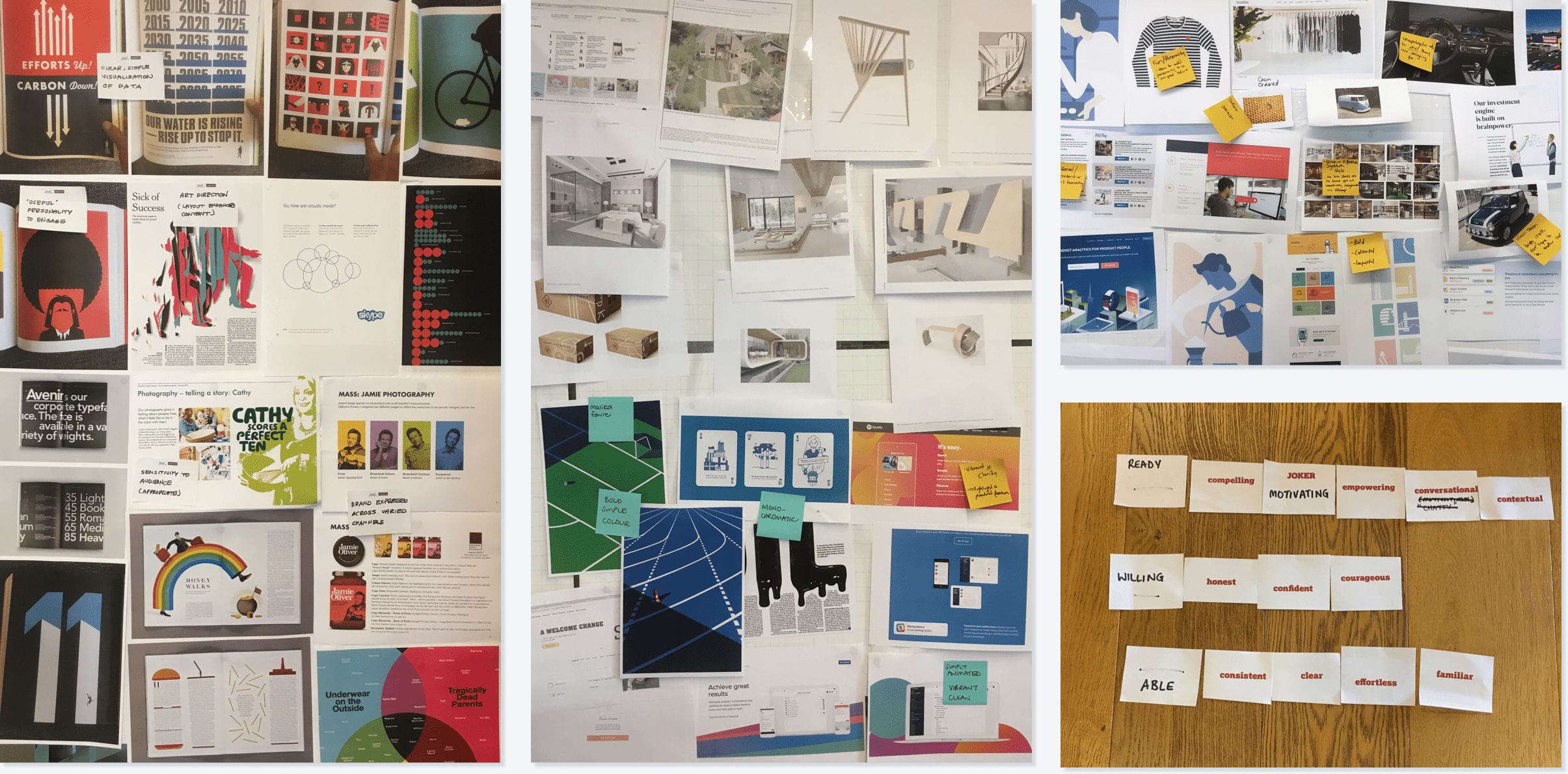 A series of workshops lead to these four principles:
Bold: Be confident and make choices which drive positive change
Clear: Direct people to the right path and include nothing which detracts from their purpose
Intentional: Deliberate precision communicates who we are and what we stand for
Reassuring: Credibility and familiarity tell people they're making the correct choices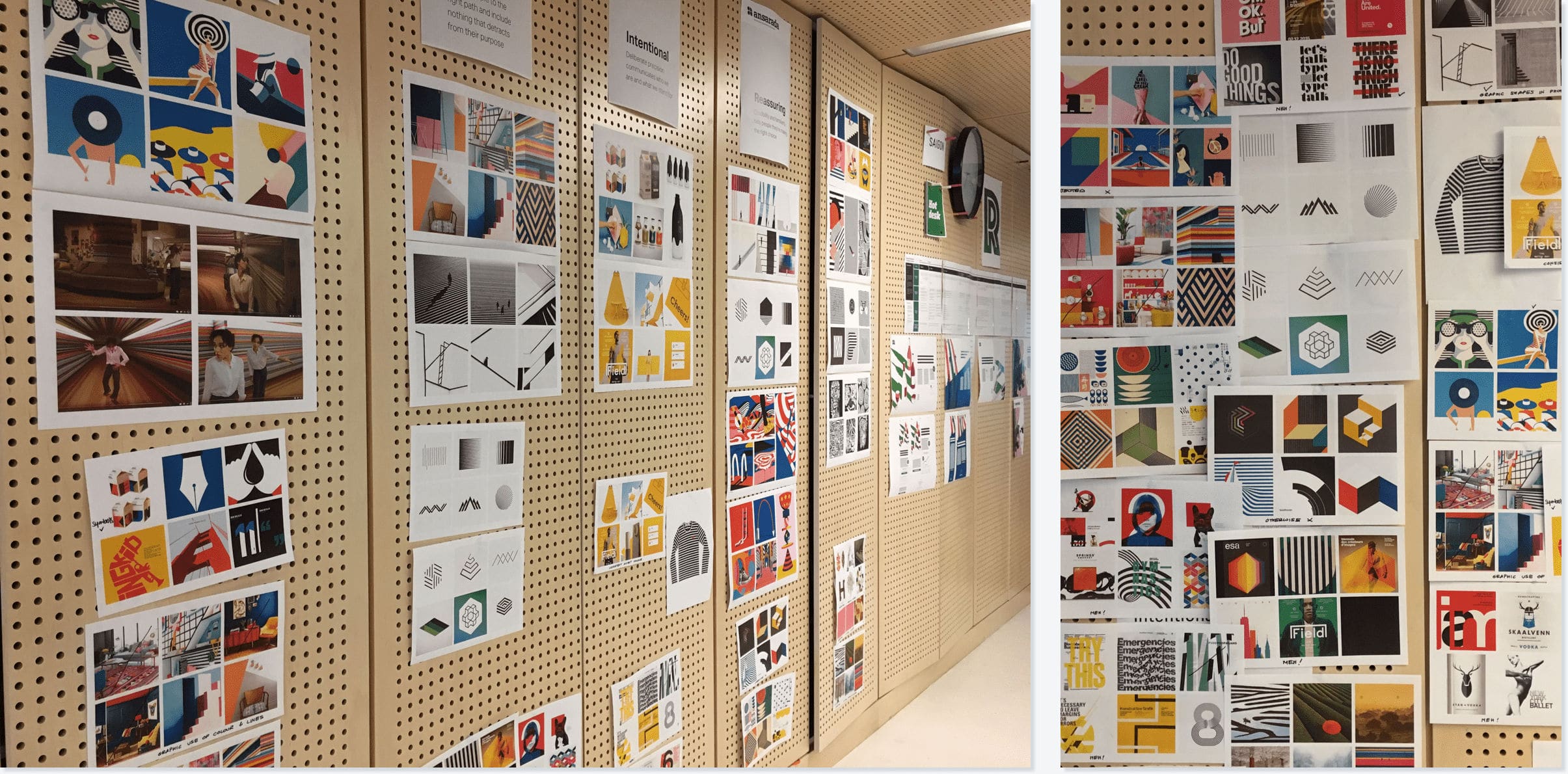 A more compelling and effective website
Transforming the company meant also changing the look, feel, and functionality of the Ansarada website. I designed a set of responsive layout components which can be used across any number of pages. These components were based on the same 6/4 compound grid as all the company's new print materials and publications.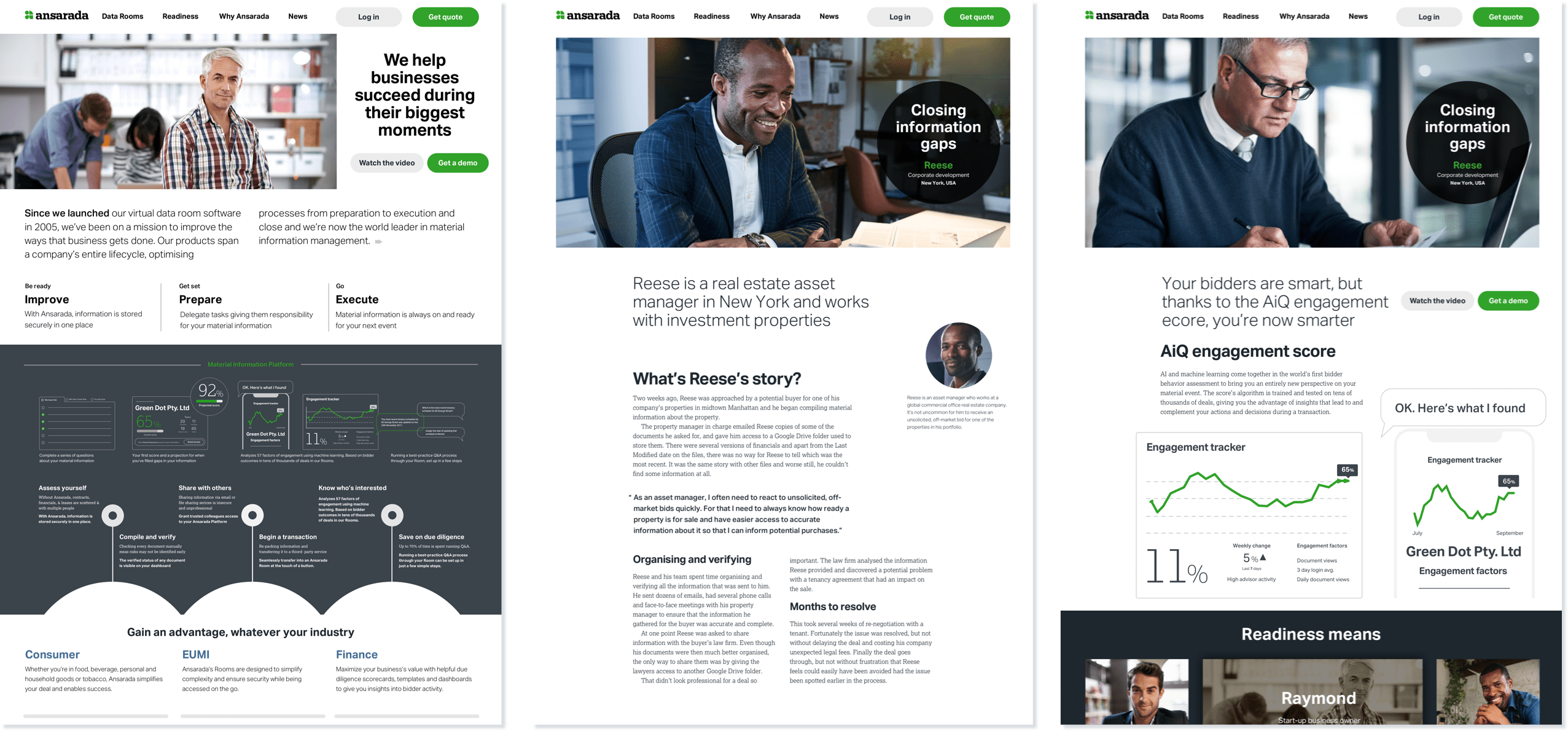 Readiness.is
It's important that companies of any size are ready, in shape, for events which happen, be they an audit, merger, or raising money. Readiness is important, but what does it mean in reality?
To answer that question, I developed an editorial strategy for telling compelling stories about the problems businesses face, and how the Ansarada platform helps to solve them. I designed new print publications, sales materials, and a website, all visually connected to the company's new visual identity.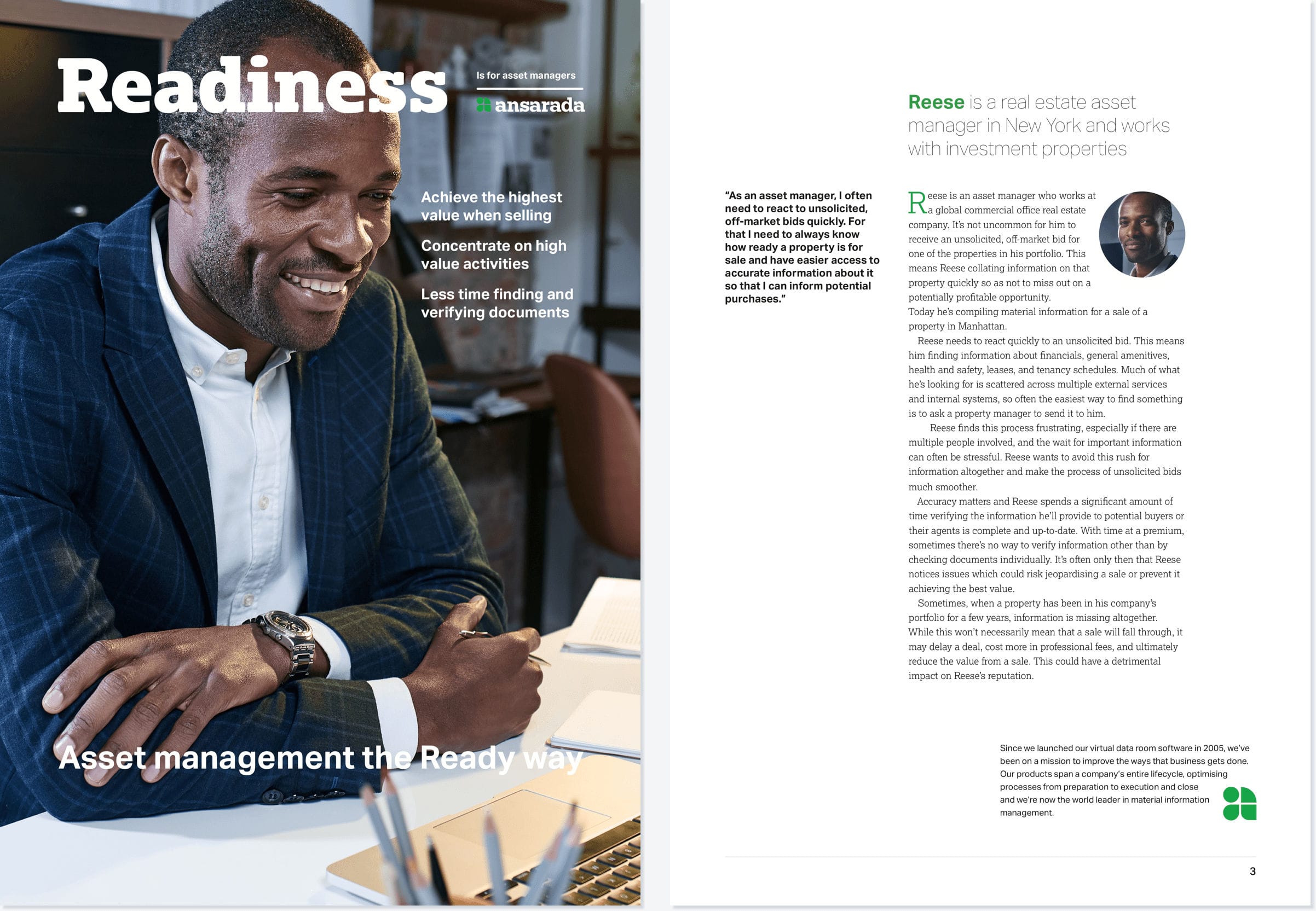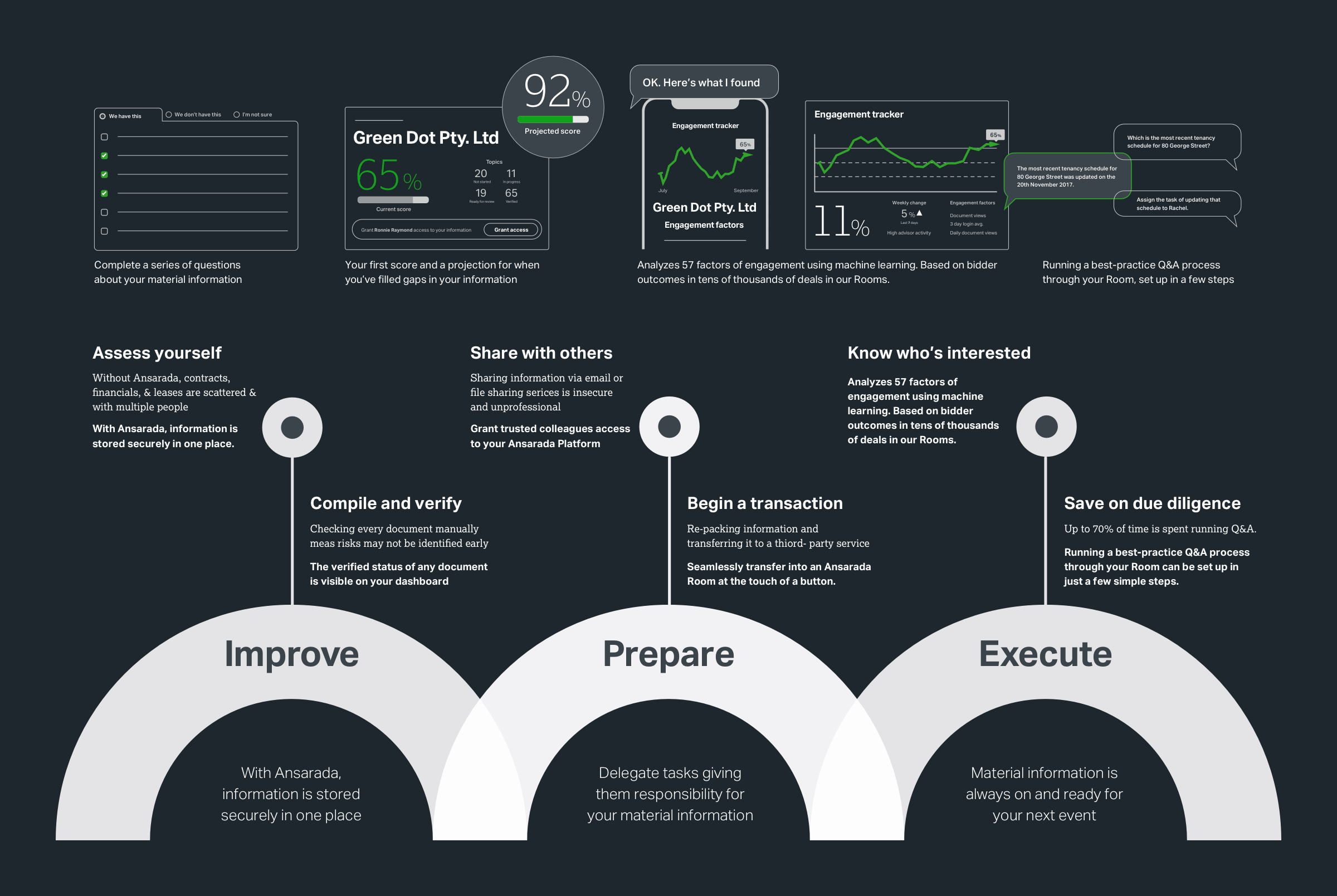 Indicators (print)
Ansarada anonymously collects information about thousands of business deals running on its platform and these contain many of interesting stories. To turn their data into compelling content, I developed an editorial strategy for Indicators—a quarterly digital and print publication which showcases their data and the stories it tells.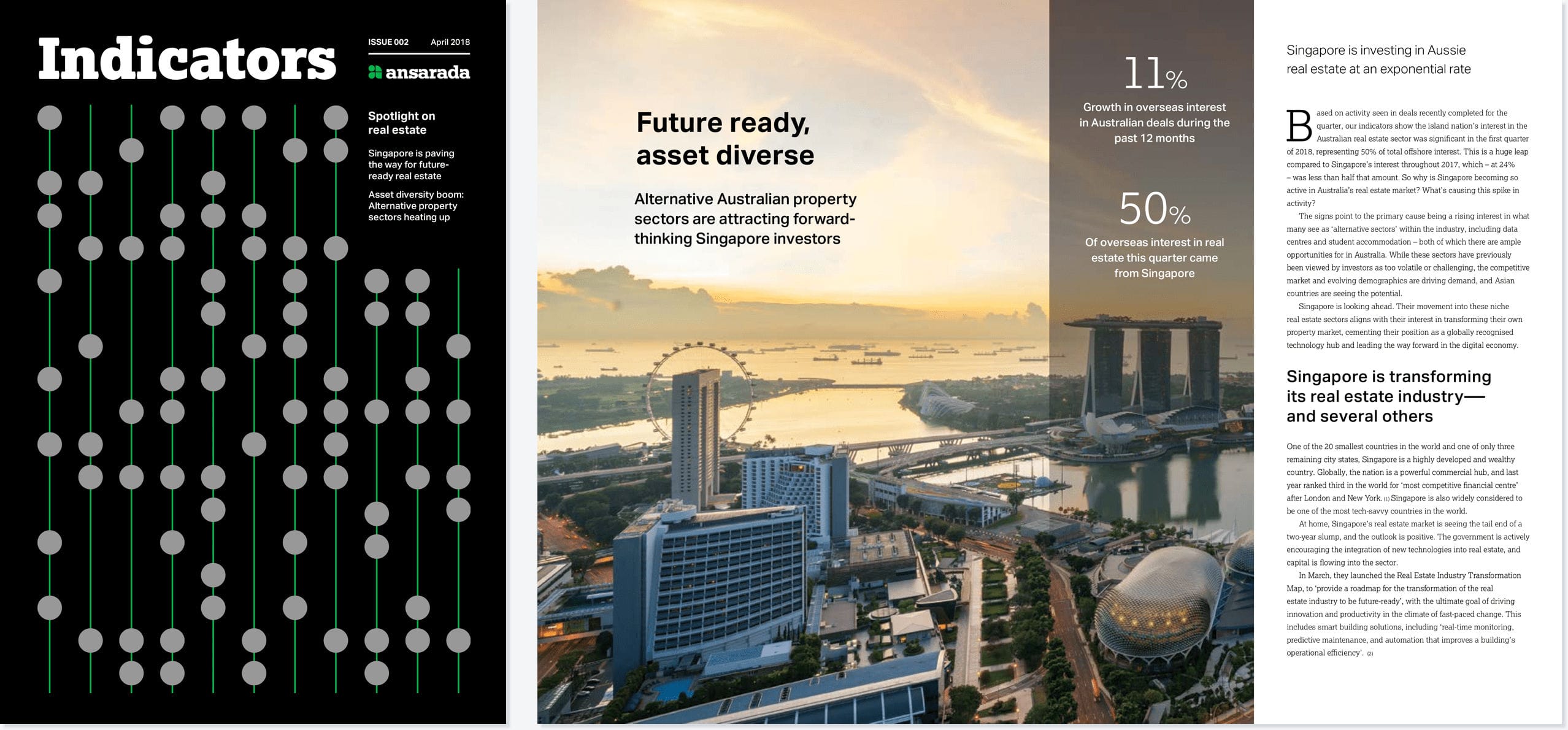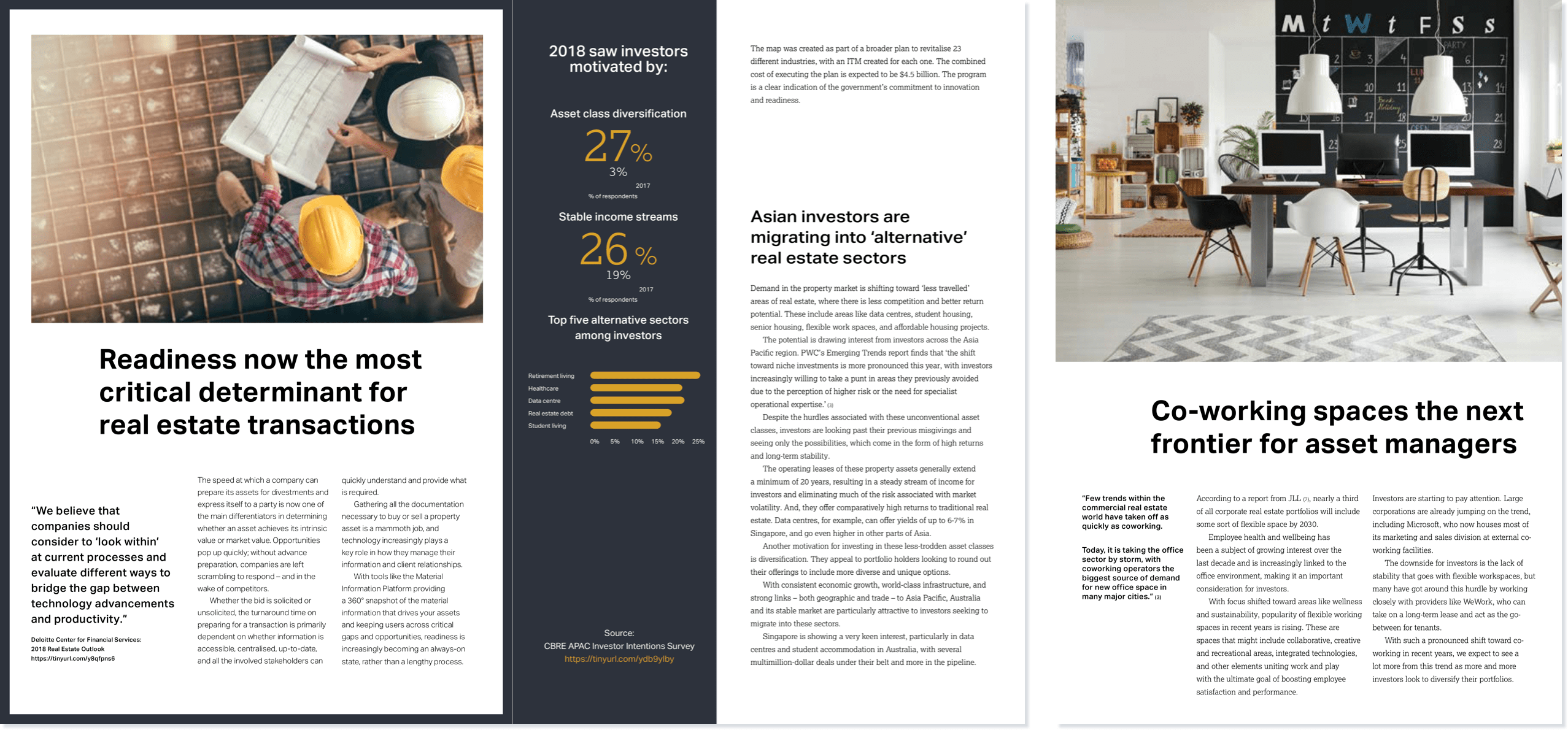 Indicators includes market activity from Australia across the world, plus an in-depth feature on one aspect of business.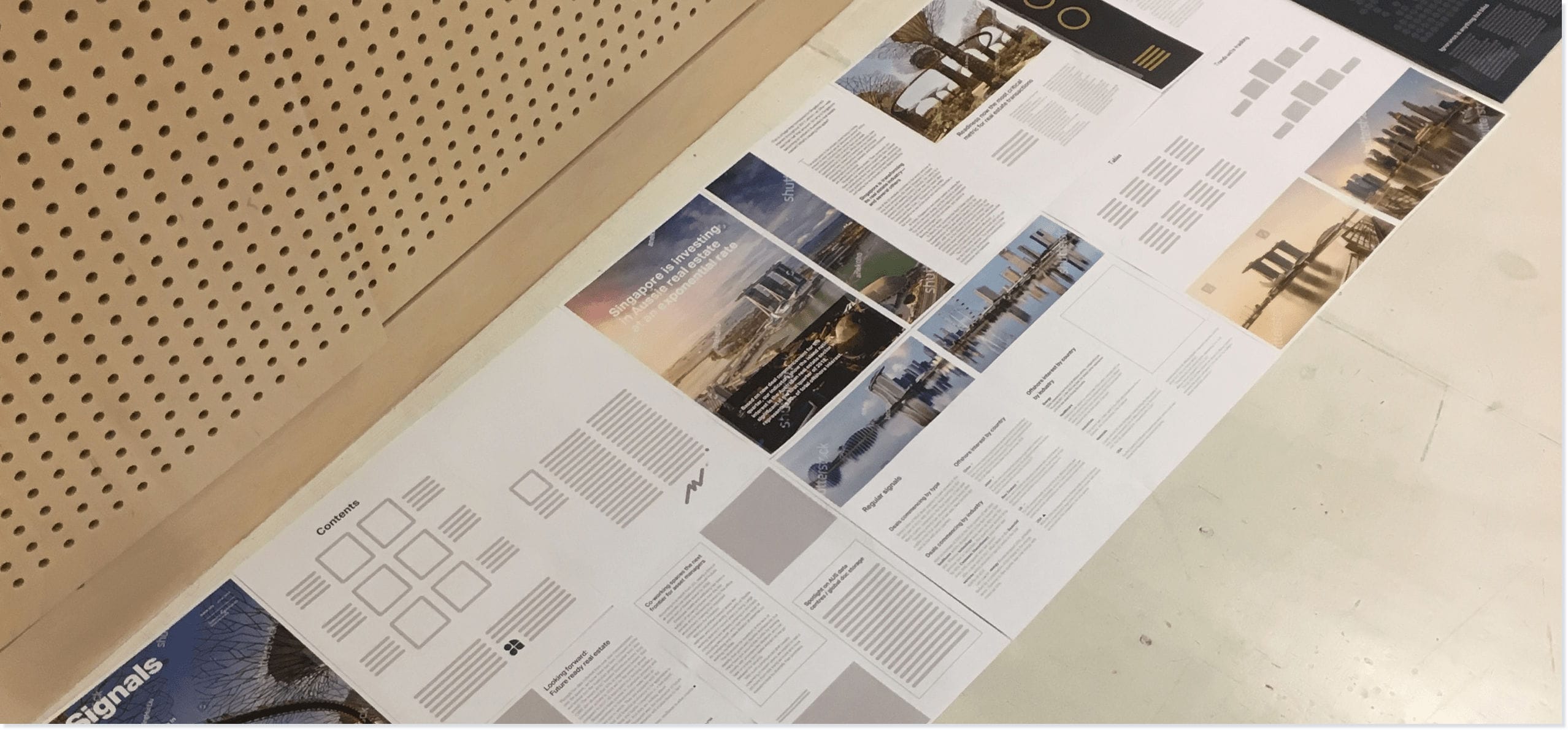 Cutting room floor
In every project, there are designs that never make it beyond the concept stage, and Ansarada was no exception. Here are just a few of my working draft designs: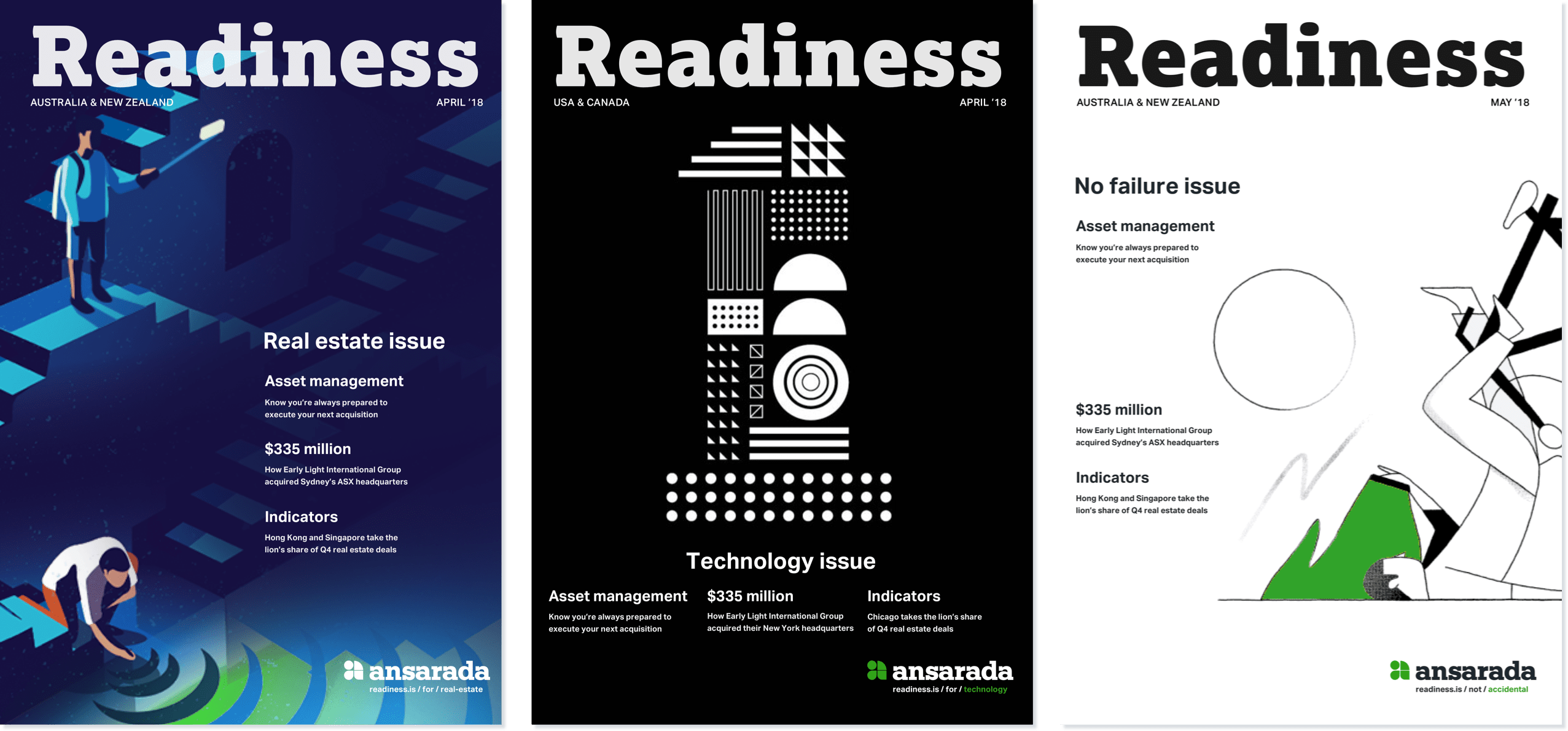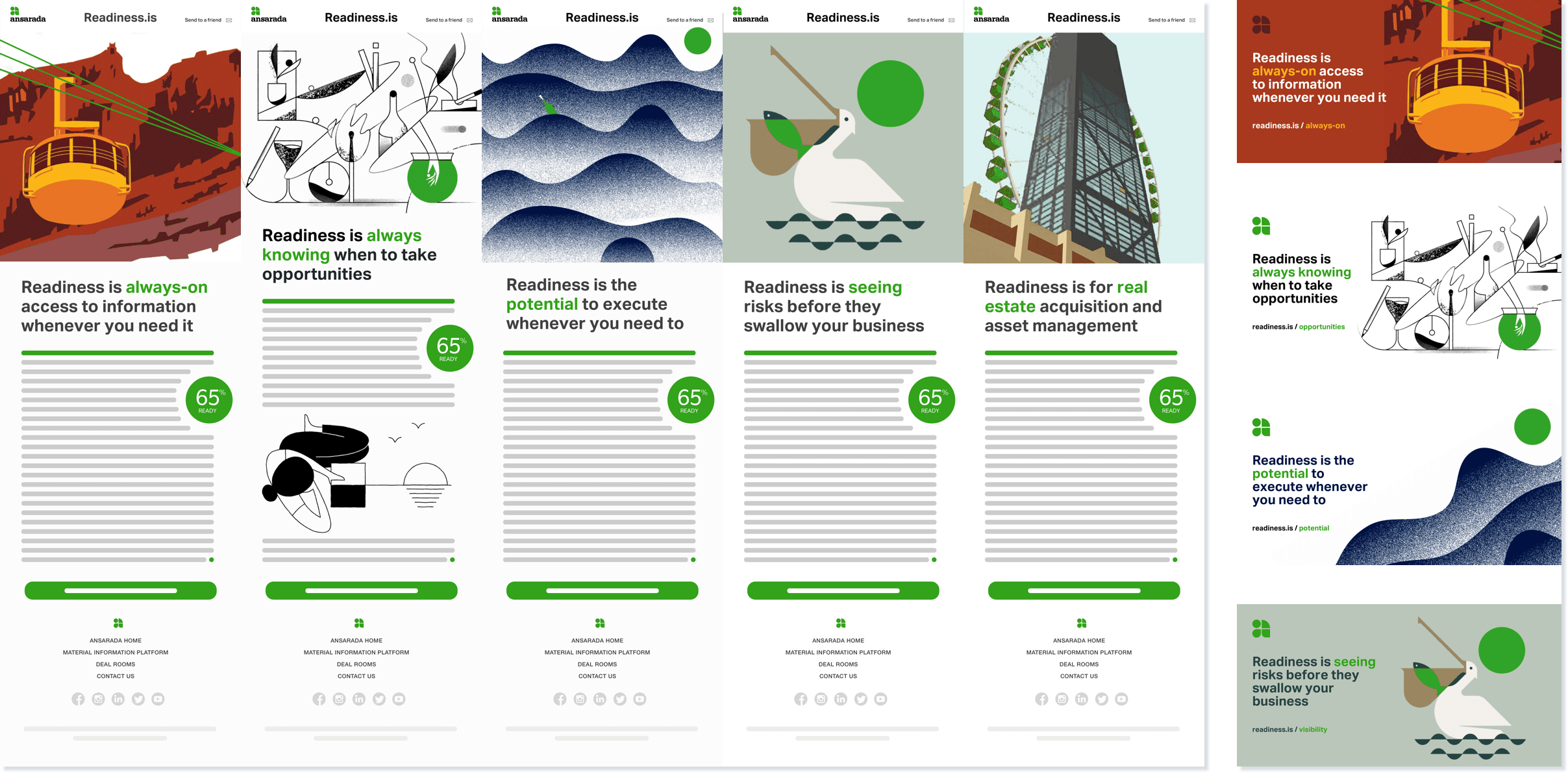 Senior leadership, marketing, and product teams
Ensuring that people have a consistent experience throughout a customer journey and its many touch-points. I guided designers from both marketing and product teams towards a common set of design principles so all disciplines can work together effectively.
Design matters at all levels of a business and throughout this 15-month project, I worked alongside the company's senior leadership team including their CEO, CPO, and CMO. I was heavily involved in turning Ansarada from an single-product company into a global SaaS business.