Web design studio North Wales
Sitting in the sun on a warm day in North Wales, someone said to us, "Why don't you move here to Wales?' This was the summer of 1998. We lived in the UK, and I worked at a small advertising and design company who were then taking their first steps in web design.
Although we'd visited North Wales for family holidays, we'd not considered living in Wales before. On the drive home, we talked about the idea of moving to Wales and what that might mean for us. We all liked the idea. Maybe we'd make a move one day?
Working at the agency had given me a taste for commercial design and my first exposure to designing for the web. But I knew it wasn't a place I'd stay for more than a few years. A week after our holiday in Wales, I decided to leave, and on the same day, Sue put our house on the market.
We expected a move to North Wales would take several months, but incredibly we sold our house within hours and needed to leave in just a month. We had no home to move to in Wales. There was no job waiting for me. Our son had no school. Regardless, we packed our things and just in time found a cottage to rent in a rural North Wales village.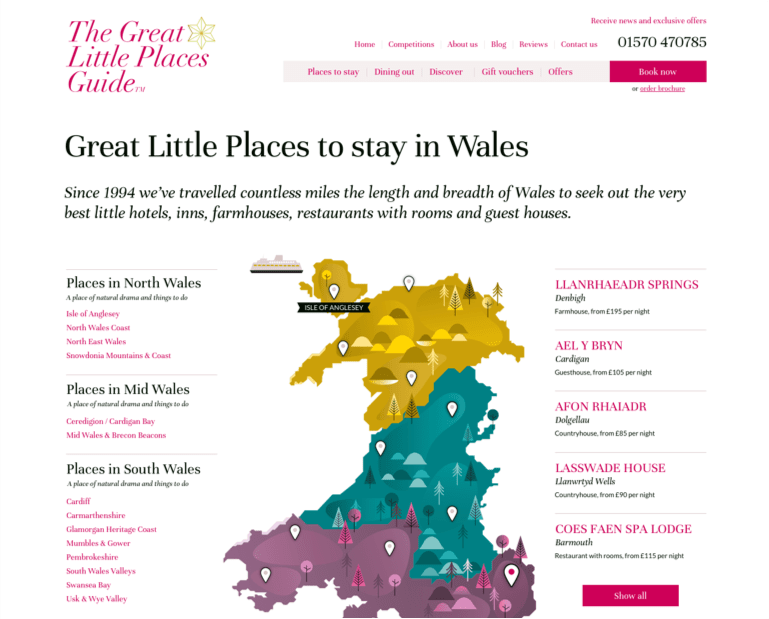 Starting our business in North Wales
In the weeks after moving to North Wales, I found a job working remotely for an American company that made some of the first digital camera backs. Occasionally, I travelled around Europe, but most of the time, I was at home in Wales with little or nothing to do.
Designing for the web had always been on my mind, but we'd not considered starting our own business. I had some early experience designing websites, so when people asked if I would create a website for them, I said "yes." Twenty-five years later, I still say the same thing.
We needed a name for our new company. We looked in a dictionary, and one definition for my nickname "Malarkey" includes "Stuff & Nonsense." It sounded good, reflected our personalities, and was different from anything we'd seen before. I set up a desk in our living room with a PC, phone, and fax machine, and we got to work.
Finding our first clients in North Wales
For the first year, we ran Stuff & Nonsense part-time while I worked for the American company. Our first commercial website projects came through word of mouth, but we knew we'd need more clients to grow our design studio.
Sue scanned North Wales business directories looking for possible leads, and I used my sales experience to cold call them and arrange appointments. The web was still in its infancy, and so our success rate was low, but we made progress with a few larger companies in North Wales. We charged only hundreds for most of the early websites we worked on, but within a year, we landed our first project worth more than £10,000.
With Sue's encouragement to work on Stuff & Nonsense full-time, I stopped working for the American company, and we stepped out on our own.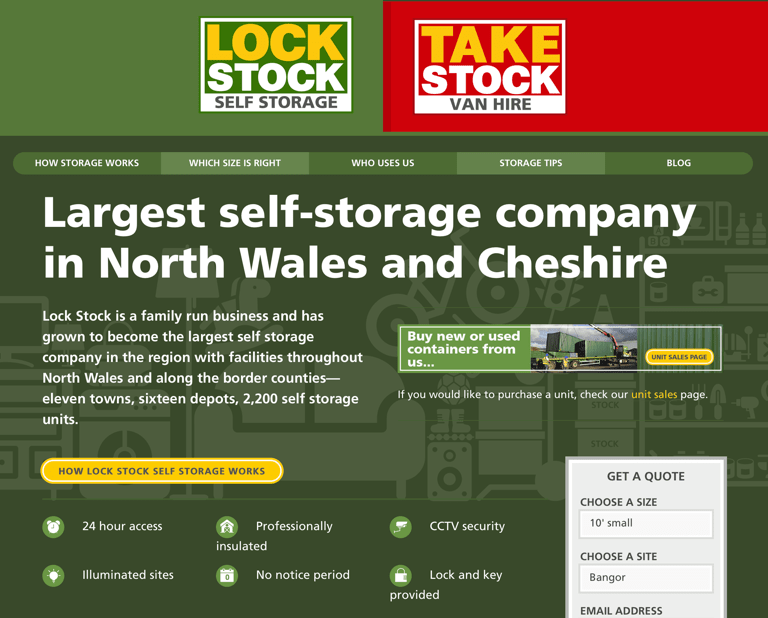 Our ambitions for design in Wales
Wales is a small country with rich culture but is not well-known for its creative industry. Despite being so close to Chester and large cities like Liverpool and Manchester, rural North Wales has few creative businesses.
Businesses in rural Wales work extremely hard, and we've always believed that they deserve the same quality creative design work as a large business. Stuff & Nonsense has grown to work with well-known international clients, but we still treat small businesses in Wales with the same meticulous care and attention to detail. As we've travelled the world to speak at web design conferences and teach, we've brought back the cutting-edge ideas we learned home to Wales.
Clients we've worked for in Wales
We designed and developed websites for local North Wales businesses for our first ten years living and working in Wales. Some were in the tourism sector, including several country hotels and the Llandudno Hotels Association and its dozens of members. Others were in manufacturing and some in retail.
We designed some of the first e-commerce stores for North Wales fashion retailers and developed them using the rudimentary technologies available at the time. We've worked for consulting businesses and financial services across North Wales—Denbighshire, Flintshire, Gwynedd, and Wrexham—from Anglesey to the English border and across it into Chester. We've also worked for Conwy, Denbighshire, and Gwynedd county councils.
Boat renovating company in Pwllheli, Gwynedd
Commercial paint spraying business in Deeside
Haulage company in Flintshire
Holiday accommodation business in West Wales
Hotels association in Llandudno, Conwy
Mobile phone network provider in Wrexham
Kitchen manufacturer in Greenfield
Recruitment company in Prestatyn
Self-storage company in Denbighshire
Tractor dealership in Denbighshire
Women's fashion store in Flintshire
We learned something new about the web with every website design project we delivered. Most importantly, we learned what businesses in Wales need and how to guide them to use the web effectively.
The benefits of working in Wales
Most advertising agencies and technology-based companies are in large cities, so living in North Wales and working on the web in its early years seemed unimaginable. I'd worked in central London for over a decade, and I found the pace of life and work in rural Wales very different. Although many creative and technical people prefer to work from an office, I quickly got used to working from home.
We redeveloped the cottage we'd bought to include a design studio with its separate entrance, meeting area, and space for us to work. We were always home when our son came home from school. We could take time off during the middle of the day to enjoy a walk in the countryside around our village. Being close to the sea on the North Wales coast is essential to us. The beaches on Anglesey and the rugged coastline of Gwynedd are only an hour or two drive away. We can glimpse the mountains of Snowdonia from our cottage on a clear day.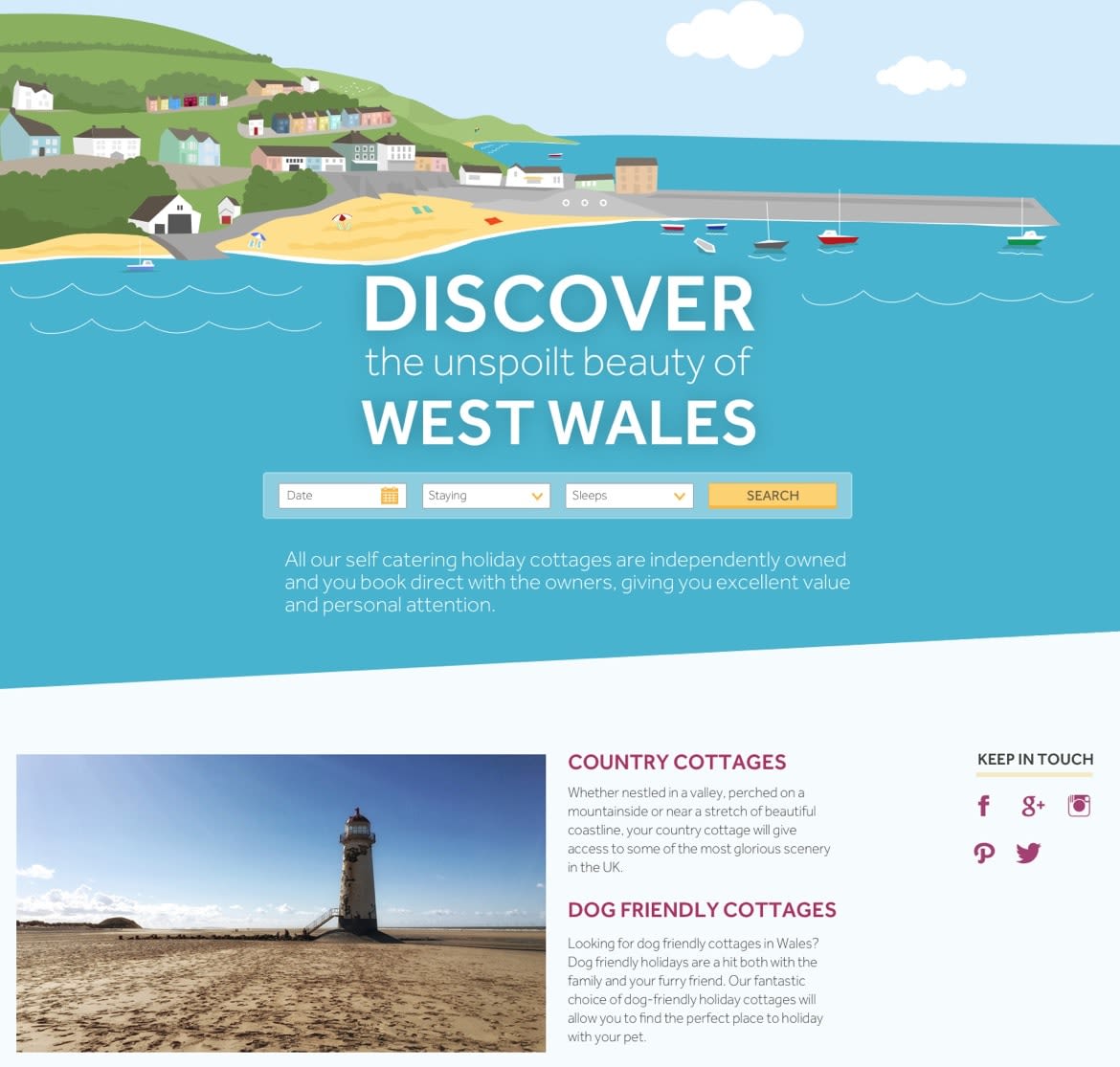 Working in rural Wales has changed
Running a web design studio in rural Wales has changed considerably over the years. Incredibly, mains water only came to our village in 1965, and there is still no gas supply. Communications were slow to arrive too. For many years we relied on dial-up connections to the internet. While broadband did finally arrive, we're still waiting for fibre.
Even with our slower than average connection speeds, modern technology has made designing websites from our small studio in North Wales much easier. Despite being remote, every day, we speak to clients across the world using Slack and Zoom. Attitudes have changed, along with technologies. Clients don't expect a studio like ours to be in a large town or city necessarily.
Wales as a base for designing internationally
Technology has meant we're able to work with clients across the world. We now design products and websites for businesses large and small, charities, NGOs, and start-ups. North Wales is rural, but transport links into the UK mean it's easy to drive to airports in Liverpool and Manchester and fly to anywhere in the world. Trains to major cities like Birmingham, Liverpool, London, and Manchester may not be as fast as Japan's Bullet Train, but they do mean travelling from North Wales to London in less than three hours.
---
"The Welsh digital economy is the fastest growing outside London. The total number of digital and tech companies working in Wales grew by 9.2% in 2015."

Analysis by English Nockolds
---
The COVID pandemic encouraged many people to reconsider where their staff and suppliers live and work. The barrier to living and working from a rural area like North Wales has been lifted with so many people working from home. North Wales has been our base for the past 25 years, and I suspect many others will follow us to Wales for the same reasons we came here.
Our plans to help Welsh businesses
We're currently working three weeks every month with Nozomi Networks. The rest of our time, we're available to work with interesting people on designs for products and websites. We'd love some of those people to be from Wales.
The full effects of the combined economic impact from Brexit and the COVID pandemic have yet to be fully understood, but businesses in Wales will be hit hard by both. In the time we have available, we'd love to work with companies in Wales to help them overcome the effects of Brexit and COVID.
Nowhere else we'd rather be than Wales
When we said "Yes!" to Cymru 25 years ago, we couldn't have imagined that our work would take us around the world from Africa to the Far East, across Europe and the United States. It's been hard work, often punctuated with periods of uncertainty. There have been difficult times—both personally and professionally—but working as a designer on the web has given us a lifestyle we enjoy and a body of work we can be proud of. Wales has played an enormous role in our lives, and there's nowhere else we'd rather be.