Blog
It's a mugs game. Bodum vacuum travel mug review
I care a lot about the things that I use everyday. I need them to be the nicest that I can buy, or at least afford. This means that I care a lot about my computer, phone and the sleeves I keep them safe in. I also care about the pen I write with and most recently about the mug I drink from every day.
These days I don't travel as much as I used to. Most weeks include just a fifteen minute drive to work and an occasional train ride to Manchester or London, so while the Bodum vacuum travel mug is, as its name implies, a mug to take traveling, I like mine so much I use it all day, every day, at home and at work.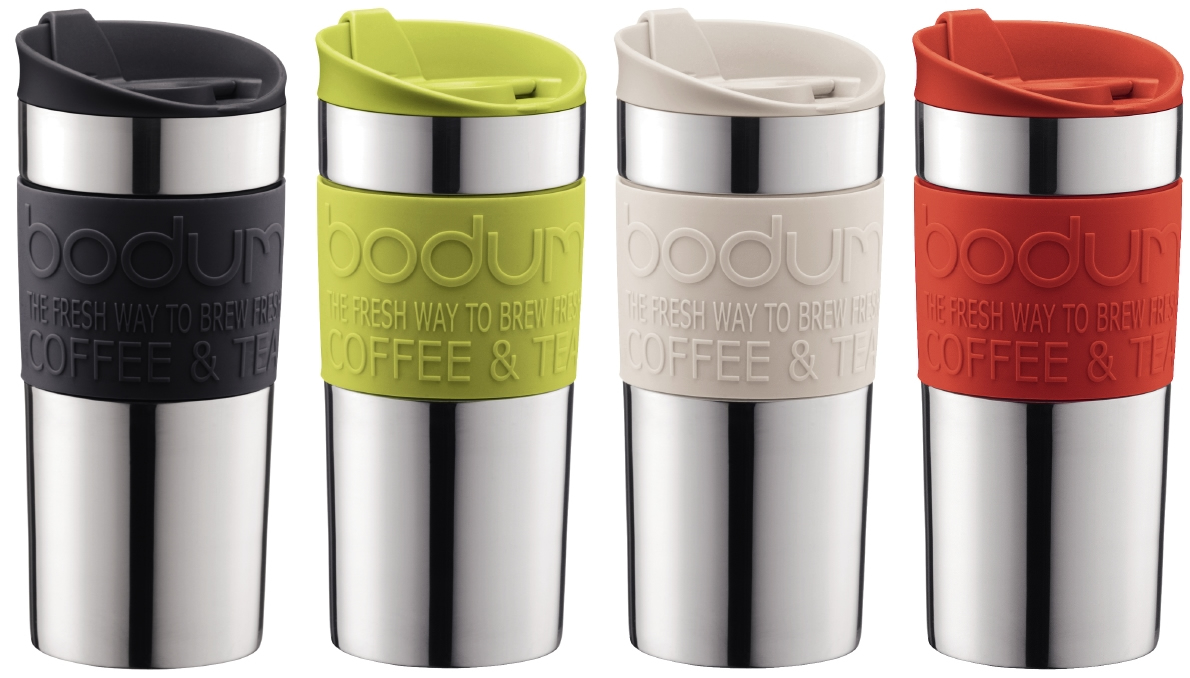 The three attributes I value most in a (travel) mug are:
Insulating qualities
Depth of the 'lip'
Weight
Bodum vacuum travel mug
I also like a mug to 'feel' good as I hold it most of the day, and the Bodum vacuum travel mug's combination of smooth stainless steel and slip-proof silicone band feels really good. The band itself has raised writing to help with the mug's non-slip grip—"Bodum. The fresh way to brew fresh coffee and tea"— If I could change anything about the mug it would be that writing. Two "fresh"s does leave a slightly bitter taste and I'd prefer a pattern of some sort instead. There's more slip-proof silicone on the base of the mug to not only stop it skidding across a desk but also to prevent 'cup rings.'
With or without its screw on lid in place, the Bodum vacuum travel mug keeps a cup of coffee or tea at a drinkable temperature far longer than a non-insulated mug. I may well do a 'sciencey' test one day, but anecdotally without a lid a cup of black coffee stays hot for ninety minutes or more and with a lid more than four hours. There have been plenty of times when I've needed to take off the lid to release some steam and bring a cup down to a drinkable temperature.
Speaking of that lid, it screws satisfyingly into place and although its seal is tight and its catch covers the drinking hole completely, that doesn't make the mug leakproof. It has saved me, my desk and my car's carpets from the worst of a spill several times though. Some insulated desk and travel mugs have a small drinking hole and a very deep 'lip' that can make drinking awkward, especially in the car. Although I drink from my mug mainly with its lid off, when I do use the lid the size of the lip and drinking hole feel much better than most.
I like a mug to weigh substantially enough to prevent it being too easily knocked over but also light enough so that (empty) I can put it into a bag when I get off a train. The Bodum vacuum travel mug feels just weighty enough, helped by its slightly weighted silicone base.
The first Bodum vacuum mugs I bought were 'travel' mugs, with a simple screw-top lid. A few months ago I found a shop that sells one with that standard lid, as well as a lid with a French Press style mesh filter. This French Press lid is idea for making cups of ground coffee (or tea) with very little fuss. The Bodum mug is all you need.
I've used several insulated travel mugs over the years, but the Bodum vacuum travel mug is undoubtably the best on all three of my criteria. I love mine so much that I don't just use it when I'm travelling, I use it all day, every day. I even get slightly, selfishly annoyed when some, kind person makes me a cuppa in anything else. I received my first (black) mug as a gift last Christmas. I now keep that one at work. Since then I've bought myself another (black) mug to use at home as well as a black mug for Alex and off-white and purple mugs for the Sues.
A thousand words about a mug
Some people might think me strange for writing over a thousand words about a mug, but the quality of things that I hold every day matter to me a lot. The Bodum vacuum travel mug (and press mug) are the best I've ever owned and I can't recommend them highly enough. They come in black, off-white, lime green, purple and red and there are plenty of places to buy them and the travel press online. The Bodum online store sells the mug and press in all colours, although you'll likely find both mug and press cheaper on Amazon.
---
---